There's a trend, a splash across the internet that's troublesome. I'm noticing articles with titles, such as, "Why Successful People Don't Use To-Do Lists" and "Why To-Do Lists Don't Work."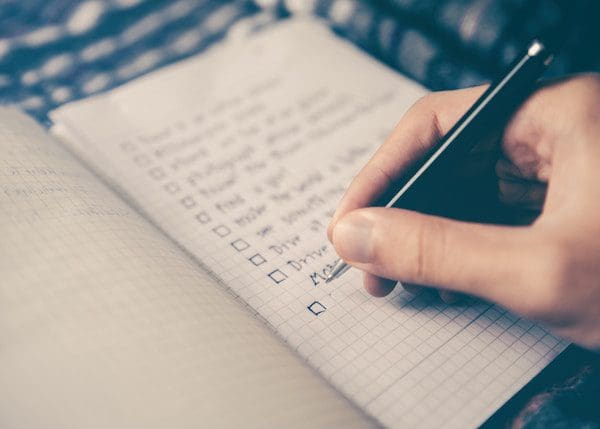 I remember returning home with my daughter Summer from Hospice House the evening my husband took his final breath. The thought of all that needed to be done unraveled me.
But Summer and I did the oddest thing. We notified immediate family members, put on pajamas, popped some corn, and watched HGTV's "Love It or List It."
I suppose it was our way of coping in the moment, of leaning into the unthinkable, pushing the details of funeral-planning out of my head, and embracing the simple pleasures of fleecy pajamas, flickering fireplace, salty buttered popcorn. 
The next morning, we wrote three basic rules for that first full day without husband and father:
Stay in pajamas all day
Don't get off the couch except for coffee-and-tea breaks … oh, and food and bathroom breaks … and maybe to answer the door
No one is allowed in unless they're wearing pajamas (although we did make exceptions to this rule)
Ironically, in between all the remembering and laughing and crying, Summer and I got quite a bit done from the couch in our pajamas.
The simple pleasure of staying in PJs and drafting lists of things that needed to be done removed the backpack full of bricks that I'd been lugging around and placed the weight on paper—planning a Celebration of Life service, arranging housing for out-of-town family, determining meals and gathering times.
By the next day, Summer and I were rested and ready to tackle the items on our lists.
And thankfully there were lists that kept us somewhat organized and focused.
The problem with these trendy "anti-to-do list" articles is that they assume each day has its own list, and therefore if we don't get everything checked off for the day, we feel bad about ourselves. Or overwhelmed. And we add unnecessary stress to our lives.
Ridiculousness!
One of the articles even indicated that we should put tasks on our calendars instead of on a list.
But if I'm in the middle of work and the creativity juices are flowing and I remember that I want to send a thank-you note to my favorite aunt, I'm not going to schedule that on my calendar.
I'm going to pick up my phone and say: "Siri, please remind me to write Aunt Emma."
And boom. It's on my to-do list.
And it will get done, whether today or tomorrow or the next day. No pressure. No stress. No feeling bad about myself. Simply a reminder to do something that needs doing.
If organization is part of living well during the hard and holy moments of life—like, when there are funeral services to plan—then to-do lists are one of the tools to help organize us and offload that backpack full of bricks.
Remember
There's balance to everything. Of course. This insight from Alan Cohen:
The only thing more important than your to-do list is your to-be list. The only thing more important than your to-be list is to be.
Hence, 3 things to remember:
1. When life is overwhelming, schedule a Pajama Day. And while you're in your PJs, consider listing the most important things that need to be done. And then put aside your list until it's not Pajama Day.
2. Your to-be list is more important than your to-do list.
3. You are the boss of your to-do list. It is not the boss of you.
I'll leave you with this parting thought:
I made a huge to-do list for today. I just can't figure out who's going to do it.