Ryan and Katie were living in Malawi when Katie got the call. There'd been an accident. A car hit a pothole while speeding and crashed headlong into a small lorry that Ryan was driving.
Katie didn't know until she reached the hospital that her husband had died at the scene of the accident. She collapsed to the ground, sobbing and screaming.
Death of a dream
Katie left Malawi with her three daughters, ages 8, 6, and 3. Not only was she grieving the irreversible loss of husband and father. But there was the death of a life dream she and Ryan shared:
Our intention was to stay in Africa long-term. It would be our career. It was devastating that my husband was gone, but also our whole plan for our life was over.
The couple fell in love with Africa as newlyweds. Ryan was still in seminary and Katie was a schoolteacher when they accepted a summer internship in Nigeria, teaching and serving the local missionaries. "We knew that someday we wanted to return full-time," said Katie.
When the Free Methodist World Missions board contacted them about a post in Malawi, Ryan was pastoring a church in Arizona and Katie was expecting their third child. The timing wasn't good.
Nine months later, the timing was right.
In Malawi, Ryan served as principal of a Bible training school while Katie coordinated the child sponsorship program and worked in women's ministries.
Students came to the training school for a month at a time and then returned to their homes. During the in-between periods, Ryan and Katie visited their villages – checking in on the pastors in training, building relationships, helping with the kids, and working with women's ministries.
And now all that was lost.
To care for orphans and widows
A few months after Ryan died, Katie visited Malawi with her girls. While there, she attended a women's conference. Several of the women spoke to Katie of their concern for her as a young widow with three children. Despite their own lack, one of the women pulled out a huge wad of cash for Katie:
That was a turning point. What they were doing was my passion—to care for the orphans and the widows.
Back in the States, Katie sought grief recovery counseling, and she and the girls participated in a grief support group.
And then Katie received an invitation from the missions organization to return to Africa. Again, it wasn't the right timing.
But as the weeks and months passed and her daughters grew older, Katie made a commitment to serve in Malawi for a year. She and her girls moved to the Bible training school campus where Katie picked up her work with women's ministries and coordinating the child sponsorship program:
The lesson to my girls was: When God gives you the strength, you can do whatever He asks.
New purpose
Katie met her current husband, Rob, six months before moving back to Africa. They decided to get married and make their home in Sisters, Oregon, after she completed her one-year commitment.
A year after Rob and Katie were married, Paul Rawlins, director of Hope Africa International (HAI), asked if Katie would consider taking over the administration of the program.
HAI is staffed by nationals in Kapchorwa, Uganda. Through direct contact with students and their parents, HAI has seen to the educational, health, and emotional needs of hundreds of children through a child-sponsorship program. They also support vocational training—in business, nursing, teaching, and agriculture—for their students who complete secondary school.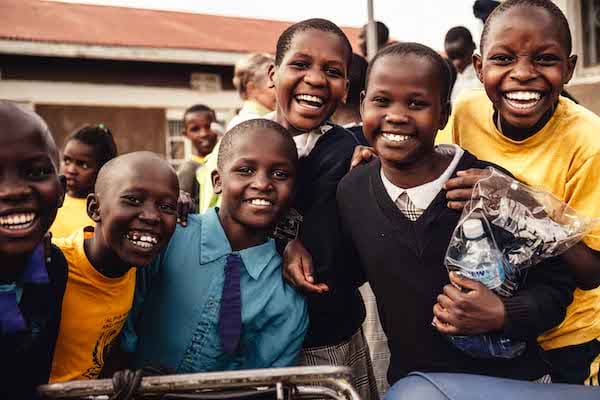 The Hope Africa International staff in Uganda also identifies needs of the sponsored children's families and offers assistance to widows, single moms, families with disabilities, parents suffering from cancer, and guardians of orphaned children.
Because of her experience living in Africa, her understanding of cross-cultural work, and her knowledge of running an effective child sponsorship program, Katie was the perfect fit to manage the Hope Africa International from its home office in Sisters.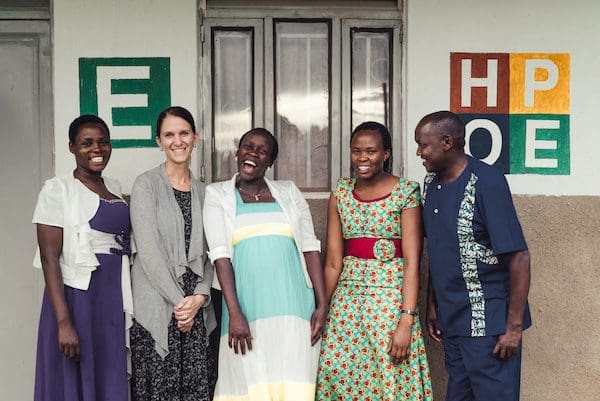 Back at the moment of her collapse over Ryan's death, Katie remembers experiencing the love of God in a powerful and overwhelming way:
… the knowledge that even though it was super painful and devastating I could stand up on my feet and walk through those days and months and years.
Katie's girls
Katie started a tradition of taking her daughters back to Africa one at a time. The girls earn the money to cover the cost of their airline ticket and for two weeks during the summer before their high school senior year, they get to experience the continent where they once lived.
Anna, age 19, starts nursing school this month and wants to practice medicine overseas. Lydia, age 17, is playing around with the idea of medical school or physical therapy with the intent to serve children. Ella, at age 14, is looking forward to her turn in Uganda.
Katie's daughters are very strong and independent and not afraid of things. "The oldest two love Africa so much and want to help," said Katie. Anna once said to her mom, "The thing that made me happy was I was able to teach health to middle-school-aged kids in Uganda!"
What if?
What if God sets us on a challenging course until it becomes comfortable?
And then what if He nudges us out of that comfortable place because there are more things to experience, more lessons to learn, more lives to impact?
In this broken world, there will be car accidents and cancer and broken bones and broken dreams.
But God has the capacity to pick up the shatters and rearrange them into a new and beautiful purpose. I think repurposing is one of God's specialties.
What if difference-making ends up being painful? That's certainly a possibility. But we'll never regret living a difference-making life.
Because it's in the giving of ourselves, especially in times of devastating loss, that helps direct our own lives toward fullness—as in, meaningful, grateful, joyful.
Just ask Katie.
Save the Date!
Hope Africa International is hosting an event at Fika Sisters Coffeehouse (201 E Sun Ranch Dr; Sisters, OR) at 6:30pm on Friday, January 24 – a gathering over coffee and pastries to inform people about the work of HAI. If you can't make it to the evening event, plan to stop by sometime during the day: a portion of all proceeds will be donated to HAI on that day.