January 15 marks the day when my friend Charity watched frantically, hysterically as her husband and three-year-old son were swept out to sea by a sneaker wave.
Every year, on the anniversary of the Worst Day Ever, Charity is determined to get as far above sea level as possible.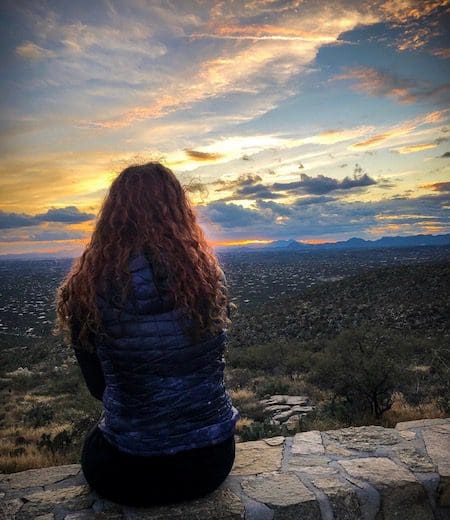 Last year, her friends booked a room at Mt. Hood's historic lodge and took Charity snow-shoeing up the mountain.
This year, with Charity in grad school at University of Arizona, the three young women—Brittany, Elisha, and Chylynn—flew to Tucson to be with her.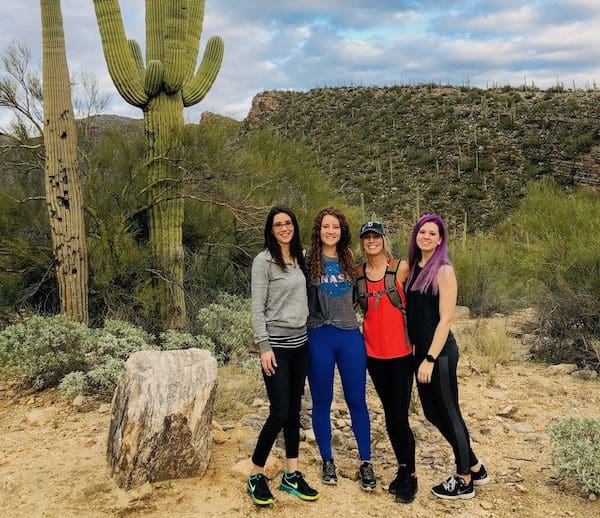 Back when Chylynn first heard about Charity's horrific loss, she knew immediately who she had to contact. "I told Brittany and Elisha that Charity needed us. They did not disappoint. We came together and I found that our childhood bond was as strong as ever."
Charity said she had some anxiety on the anniversary this year, but mostly she was distracted, surrounded by her people, beginning the day with a hike.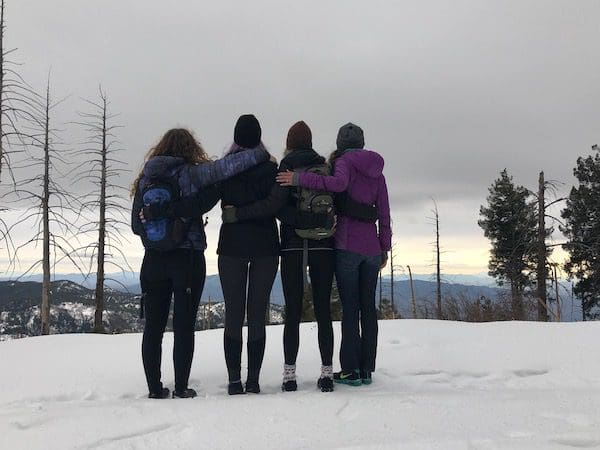 The four young women stayed up late each night, talking heart-to-heart through a dozen different topics, including their unique friendship that has grown stronger since high school.
"Charity's tragedy has tested this," Elisha said. "To love and laugh and play together is different from watching a friend suffer a pain that you cannot laugh away. To be there in the darkest hours is just as beautiful in its own way."
Charity's husband, Jayson, used to tell her that home was where she was. They were each other's home.
"I lost that when I lost Jay and Woody," Charity said. "But being with the girls this week felt like being home."
Ann Voskamp, one of my favorite authors, wrote this:

We are always lost until our heart makes its home inside of someone else. Our lives are unfulfilling if we only let our hearts fill us, instead of filling each other's broken places.
The three high school girlfriends who, last week, flew from Oregon and Northern California to be with Charity, know how to fill broken places.

But there's more to the story.
The story behind the story
My friends, Jim & Debbie, furnished an apartment for Charity last year as a young widow and bereft mom, sleeping on an old mattress on the floor, while trying to finish her Physics degree, and get her research published, and write a National Science Foundation grant — all of which she accomplished while dealing with post-traumatic stress symptoms.
They also paid for the truck rental when a couple of us girls helped move Charity from University of Oregon to astrophysics grad school in Arizona.
Jim & Deb ask about Charity regularly. When they learned the second anniversary of the tragedy was approaching and that Charity's three girlfriends were hoping to be with her, they said: "Let us know if anyone needs help with airline tickets. That's the kind of tangible thing we'd love to do."
Text messages flew back and forth. Funds were transferred electronically. And airline tickets were purchased.
And then this text from Charity:
It takes a very thoughtful person to send support for the people who are being so supportive of me. I love that.



I've thought about Charity this past week more than normal — knowing how the pain still shadows her, knowing that this second anniversary of the Worst Day Ever was harder than the first.
And I've thought about the ways Charity has reached out to other people, even from her own fractured-heart place.
Most people don't know that she honored her son, Woody, on his birthday by focusing her attention outwardly, purchasing several of his favorite books and asking the bookstore manager to randomly distribute them to children on that day.
She also did something similar to honor her husband, Jayson, on his birthday.
More wisdom from author Ann Voskamp:

Love is not that we get to feel something, but that we give ourselves to someone. Give away your life; you'll find life given back. … Giving, not getting, is the way.
This is exactly what these four beautiful young women had a part in doing for each other on this significant, life-shattering day — giving of themselves to each other.
And this is what my friends Jim & Debbie did by helping provide flights for three young women they'd never met, in support of one hurting widow they'd briefly met and had taken into their hearts.
Love is that we get to give ourselves to others.