My intent was to honor my husband on this anniversary of his Homegoing. And so I ordered dozens of pumpkin-flavored mini-cakes from Ida's Cupcake Café.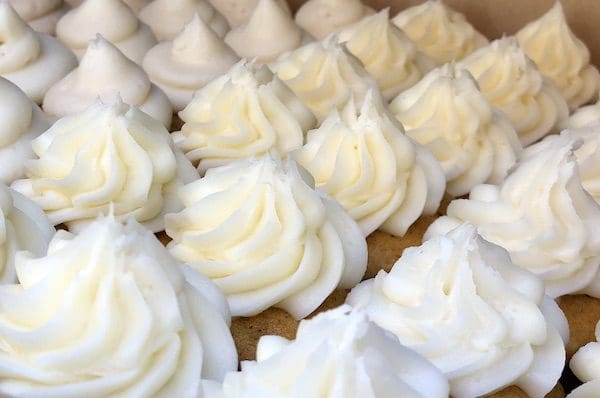 Ida's Cupcakes (all photos: Marlys)
The idea came from one of my favorite authors, Ann Voskamp. She wrote about how she and her family spent her fortieth birthday dropping off love at various places around town. They delivered homemade cookies and store-bought goodies to the nurses on the pediatric floor and the town office; they filled Mason jars with flowers from their farm and visited shut-ins. They bought groceries for a food bank, paid the restaurant bill of an unsuspecting diner, left tennis balls at the tennis courts, and tucked $1 bills into every aisle at the Dollar Store.
Ann didn't write about her family's shenanigans for personal accolades, but to say that she battles depression regularly and on this particular day — a milestone birthday — the plans were to bombard the entire town with love.
She called it gift-blitzing.
Could there be a better way to spend time and find the meaning of being and celebrate another birthday than to break through the anxiety that keeps a life bound and small?
Which inspired me to commemorate the anniversary of the day Gary left his cancer-ridden body for fullness of health and life in heaven.
To go with the cupcakes, I baked chocolate chip cookies. And toasted sweet & spicy walnuts. And knitted. And gift-wrapped. And tied on ribbons.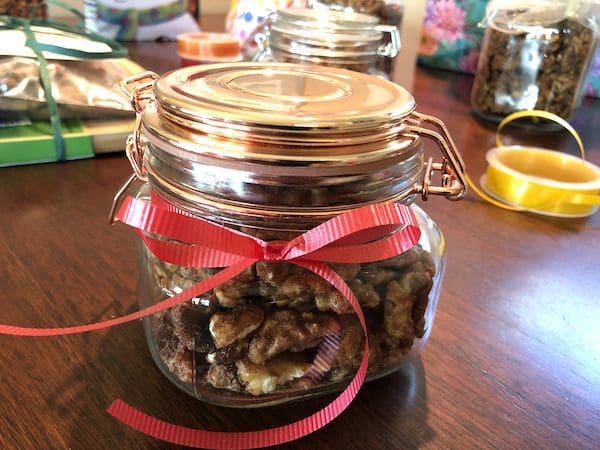 I wrote thank-you notes and dropped off love at:
Deschutes National Forest Administration who manage the wilderness trails on which Gary and I made so many ridiculously happy memories
Bend Parks & Rec with their upkeep of numerous trails in and around Bend (see above about the memories)
New Hope Church staff
St. Charles Cancer Center staff
The hospice team at Partners in Care and Hospice House
FootZone, the downtown athletic gear store, and fearless leader, Michelle, who sponsored and facilitated the Walking-4-Wellness cancer-kicking posse
But this seemed incomplete.
Because there were so many astonishing, fierce, tenacious friends and family who made a difference in our lives—too many to stop by with gifts and thank-you notes now, four years later—but please know you made a difference.
You made a difference with your flowers, and gift cards, and books, and candles, and mismatched socks.
You made a difference with your toilet plungers, and snow-shovels, and tire repair, and covering for me at work, and paying for cable during football season.
You made a difference with your daily delivery of Chai tea.
You made a difference with your homemade soup in Mason jars, entire hand-crafted meals, dessert breads and scones and pumpkin pie, and gift baskets stuffed with dried fruits, salty pretzels, and dark chocolates.
To each of you, thank you. Just … thank you.
One final thought …
When I set about planning, my intent was to honor Gary, to acknowledge and thank people, and maintain an outward focus on this anniversary of his passing.
Having fun wasn't on the agenda. Turns out, though, the gift-blitzing was outlandishly fun. I was giddy the entire morning while making deliveries.
Ann Voskamp summed up her turning-forty experience:
Honestly, this birthday spent gift-blitzing the whole town seemed ridiculously small and insignificant. Beginnings always are, I suppose. First steps always seem like not enough, but they are the bravest and they start the journey to where you're meant to go.
Where I was meant to go on this day—November 17—was to honor and thank people who helped make a difference in my husband's quality of life, and in mine, during the cancer years.
Thank you, family, central Oregon friends, medical teams, agencies, and businesses. Gary and I could not have lived so fully and so well on this hard journey without the part you played.
P.S. If you think gift-blitzing sounds like a fun idea, please share, tweet, or pin!