There is this delightful notion from Douglas Pagels:
Some of the secret joys are not found by rushing from Point A to Point B, but by inventing some imaginary letters along the way.
My son, Jeremy, and daughter-in-law, Denise, travel in a 30′ Airstream when they're working across the U.S. But when they book international work, I'm called in to grand-dog-sit a little Brussels griffon named Chloe.
It's always a fun assignment because it involves a mini-vacation in a gorgeous location (these past two weeks in Cascade Locks on the Columbia River) with uninterrupted writing time.
While my son and daughter-in-law hurried off to Point B in Ireland—because this is the season of their lives in which they're working long hours to build a successful business—my grand-dog, Chloe, and I invented several imaginary letters between A and B.
We visited the historic lodge at Multnomah Falls …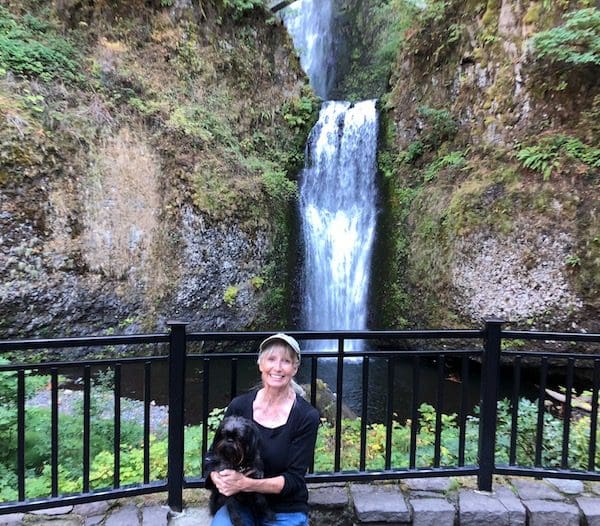 Multnomah Falls with grand-dog (photo: fellow tourist)
… and marveled at the single-handed sailboats, sternwheelers, and kite boarders on the Columbia River.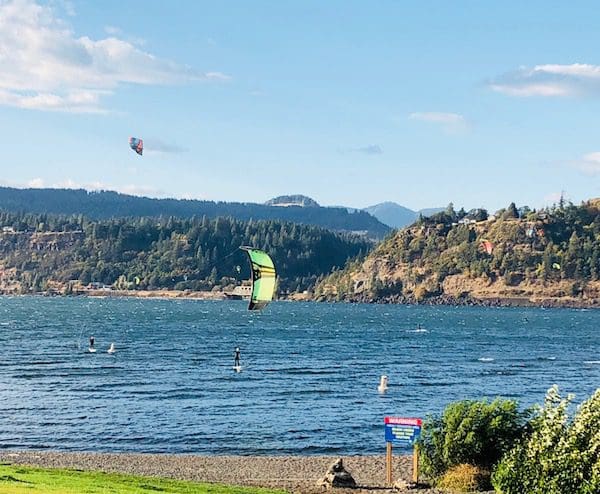 Kite boarding on the Columbia (photo, Marlys)
At the campground, I met a new friend, Kristi. She and I hiked up to Dry Creek Falls. Where it happened to intersect the Pacific Coast Trail, we detoured so we could say we hiked part of the PCT. Because who wouldn't want to make that claim?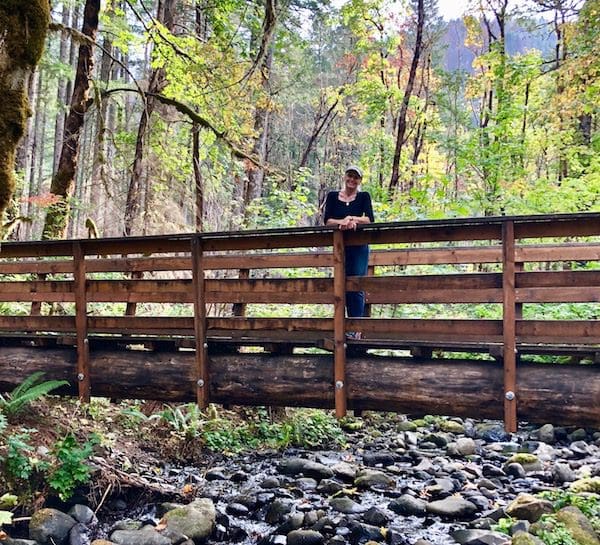 On the Pacific Crest Trail (photo by Kristi)
Kristi is an early-retiree, traveling across the country six months of the year in a tiny 16' Airstream.
Which gave me pause. Could I do something like that? What size trailer could I tow and live in long-term?
When I met Jeremy and Denise at the Portland Airport, our conversation turned to Airstream living. Daughter-in-law Denise pulled out her phone and found a nearby dealership.
And so we made a detour, toured through several lot models, and determined that I could live full-time in a 23- or 25-foot Airstream.
If my Point B is to get published, could I travel across the Pacific Northwest inventing imaginary letters along the way while continuing to write full-time?
Yes, please.
While putting in the long hours, Jeremy and Denise incorporated sight-seeing into their Ireland schedule.
Even during crazy busy times in our lives, we can—and should—invent fun, and memories, and times of refueling on our way from Point A to Point B.