When Katie Strumpf was diagnosed with leukemia, there were no online resources or publications to offer guidance to a 10-year-old kid dealing with cancer. She endured chemo, spinal taps, and bone marrow aspirations.
While still going through treatment, Katie told her mom that someday she would write a book for children with cancer, offering encouragement and practical advice from someone who's put up with doctors and medications and hair loss.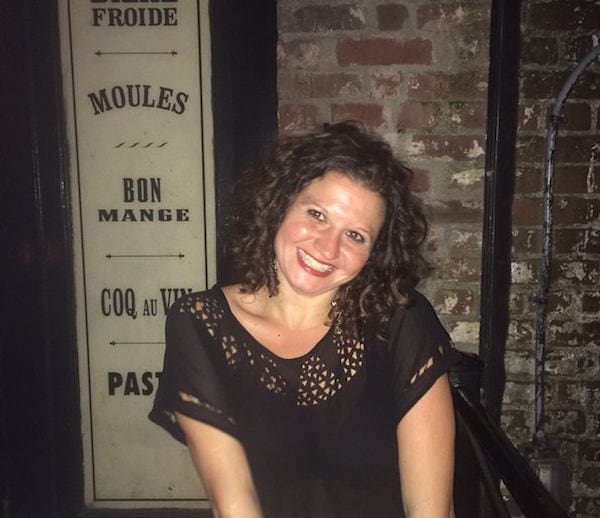 Katie Strumpf-Rackley
I first met Katie over the phone while interviewing her ten years ago. She went to college and earned a BA and MA in Communications, got a job with a non-profit foundation, and served as an ambassador for Camp Fantastic, a children's camp in Virginia founded by Tom and Sheila Baker who lost their daughter to cancer.
Fast forward a few years. Katie met and fell in love with Adam. They were planning to get married when Adam was diagnosed with a brain tumor. Despite a grueling year of surgeries, chemotherapy, and a stem cell transplant, Adam lost his battle to cancer.
His death turned Katie's world upside down. Devastated, she moved to Charleston, South Carolina. The move wasn't about forgetting Adam or leaving him behind. Katie simply needed to rebuild and recapture herself. And, because her mom grew up in Charleston, she had a support system there.
Katie completely switched sectors when she realized her personality was more suited for the corporate world. She works in medical sales now. "It's quite serendipitous because I sell cancer diagnostic equipment. It really resonates with my customers because I'm living proof of the power of diagnostics in an accurate cancer diagnosis."
Settled in Charleston, Katie met her current husband, Charlie Rackley. Katie always wants Charlie to feel he's her priority. And yet she's grateful that it's not uncomfortable talking about Adam when Charlie is around. Or even having Adam's family visit. "The things I really love about my husband is he isn't threatened by Adam's memory and the role he played in my life."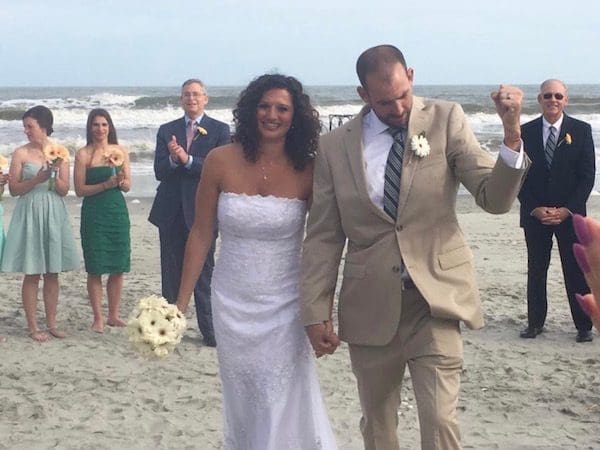 Katie and Charlie — March 2017
Katie got involved with the Leukemia and Lymphoma Society (LLS) chapter in Charleston and was recently nominated as the LLS Woman of the Year. It's a fundraising endeavor to benefit awareness and research around leukemia and lymphoma. The kick-off was on Thursday, February 22, and the 2018 Woman of the Year will be announced on May 4.
Click here to support this beautiful, courageous young woman's efforts!
Back when she graduated from college, Katie started writing chapters of the children's book in her head. She remembers one of her biggest challenges with cancer as a kid was feeling alone and helpless. "I wanted this book to help kids with cancer feel less alone."
The easy-to-read book—I Never Signed up for This!—is written in a style that highlights Katie's sense of humor and feisty spirit, and includes basic advice for kids with cancer.
On dealing with parents, for example, Katie's counsel is to cut them some slack since it's hard on them to watch their kid hurt. "Oh, and don't bother trying to get away with stuff like talking back and throwing fits because you have cancer," wrote Katie in her book. "I tried it, and it doesn't work."
When discussing how to accept a diagnosis of cancer, Katie advised, "Let yourself be angry for a while. Punch a pillow … Pop the "Get Well Soon" balloons … Do not, however, break anything in your hospital room because the hospital will surely charge you for it, and they are already charging you for enough!"
When Katie does readings of her book, without fail the children ask her to read the chapter about losing her hair. "A kid isn't thinking 'I might die,' but rather, 'I'll look like a freak.'"
Katie feels as if she's had second chances at life – not only because of surviving childhood cancer, but also "because I chose to let myself move on and not live in fear when Adam died. There are many stages of life and it's not necessarily linear but it's all in your attitude."
Katie sums up her perspective on the closing page of her book: "Cancer made me fully appreciate life. I go after what I want in life, and I believe I am a stronger and better person. Of course, there are times when my life is uncertain and I am unsure of my path. When I am hesitant to take that next step, I look over my shoulder and she is always there. That young bald girl with cancer dares me to give up, to not take that next step. So I toss my hair over my shoulder (cancer survivors who have lost their hair are definitely entitled to hair-tossing), put on some red lipstick, and take that next step."
Katie Strumpf-Rackley is a headstrong, defiant world changer — one book, one cancer fundraiser/awareness campaign, one medical diagnostic equipment sale at a time: "When I make up my mind about something, you have to get out of my way."
P.S. If you're inspired by Katie's story, please share, tweet or pin!