My young friend, Charity, is a world-changer. But she doesn't know it.
Charity is facing the one-year anniversary of the day her husband and young son were swept out to sea by a sneaker wave on the Oregon coast. January 15. But wait until you hear what she's accomplished, despite dealing with the most horrific experience of her life.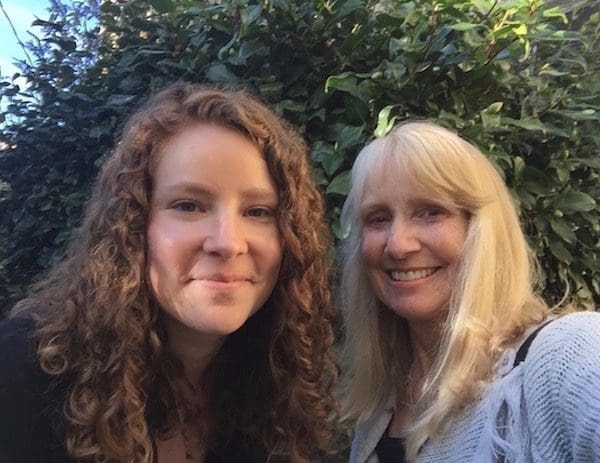 My world-changing friend, Charity
On the road to becoming an astrophysicist, Charity's story began in southern Oregon where she worked her way through nursing school. While serving as a community health nurse in the impoverished, rural area where she grew up, Charity developed an interest in astrophysics and returned to college.
In the summer of 2016, between her second and third years as an astrophysics student at University of Oregon, Charity earned an internship at NASA's Marshall Flight Center in Huntsville, Alabama. Featured on the front cover of the Cascade Magazine of the U of O College of Arts and Sciences, Charity's story, entitled "Stellar Student," tells of her significant contributions to research while at NASA.
Also in 2016 and 2017, Charity volunteered countless hours at Pine Mountain Observatory, located in central Oregon. The facility is operated by the U of O Physics Department, and Charity drove over the Cascade Range—several times—in a less-than-dependable vehicle to calibrate the telescopes, provide tours, and give talks and demonstrations.
In September 2017, a research paper with Charity's name as lead researcher, was published in the Astrophysical Journal — a piece entitled "The Evolution of Bulge-dominated Field Galaxies from z ≈ 1 to the Present." Not that I have any clue what that means.
In addition, throughout 2017, Charity—by nature, a quiet young woman who suffered from shyness in her early school years—made herself available to speak to various groups about her research and her journey to astrophysics.
Charity is finishing up her BS degree at University of Oregon. She applied to nine grad schools, and now it's a waiting game. Her top choice is the International Max Planck Research School for Astronomy and Cosmic Physics at the University of Heidelberg. As in, Germany.
Last month, Charity received notice that she made the "hot list" of highly ranked candidates at IMPRS, but she hasn't heard anything since and she's second-guessing herself: "I shouldn't have picked the top programs because the competition is so tough," she worried over lunch yesterday in Eugene.
Listening to her, I thought of her achievements and of how attractive she would be to grad school programs.
"Charity," I said, in my best raised-eyebrow voice, "from my (uneducated) viewpoint, all the other 4.0 students applying for grad school are like the Cascade Mountains." Impressive. Ambitious. Far-reaching.
In the Cascades near my hometown of Bend, Oregon, there are eight distinct peaks that stand head and shoulders above the range: Mt. Bachelor. Broken Top. The Three Sisters. Mt. Washington, Mt. Jefferson. Three-Fingered Jack.
"I bet most of those other 4.0 students have only one or two peaks. While you have five distinct peaks that tower over the range."
And then I ticked them off: 1) the NASA internship; 2) published research; 3) hours of critical volunteer work; 4) speaking and influencing others; and 5) overcoming a background to get to where very few rural, impoverished students ever arrive.
"Your challenge isn't going to be acceptance into grad school," I said. "It's going to be deciding where to go out of all the places that want you." (I'm personally cheering for the University of Heidelberg so I can visit her in Germany. smile.)
Underlying most of these accomplishments is the managing of grief at the loss of her family and dealing with post traumatic stress. Charity's nervous system kicks in at certain triggers: Anniversaries of critical dates (the one-year anniversary coming up) and ocean scenes, as you can imagine. Because, after all, she was standing right there when her husband and only child were swept out to sea.
Charity has a vision — and in fact, has applied for grant funding — to create a traveling display to educate students in rural areas about the possibilities of careers in science and astrophysics.
How powerful is that message when it comes from a young person who has overcome so many obstacles (and is still overcoming them) while achieving her world-changing goals!
I have family members and friends who are going about the business of changing the world:
Friends who serve the residents in homeless and rehab shelters in my hometown
Family members and friends who have fostered and adopted children
Friends who are raising funds and awareness for the provision of clean water in Africa
A friend who, through an annual cycling event, has raised over $1 million to serve families dealing with cancer
And now Charity — researching, teaching, volunteering, breaking ground for students from low-income, rural areas
How to be a world changer?
One student, one stage of research, one educational talk, one orphan, one foster child, one homeless person, one cancer patient at a time.
This thought attributed to Harriet Tubman at Goodreads:
Always remember, you have within you the strength, the patience, and the passion to reach for the stars to change the world.
How about you? If you know of a hero who is changing the world, I'd love to hear about him/her.
P.S. If you found this blog helpful or inspirational, please share, tweet or pin!