My friend (and jewelry designer) Jim Dailing shot this updated Renew | Repurpose photo with a beautiful renovated barn hiding behind the pink blossoms. (Thank you, Jim … I love it!)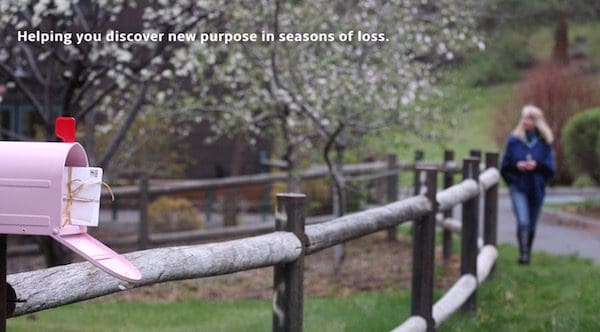 Photo credit: Jim Dailing
The barn wasn't intentionally camouflaged; it's just that the photographer (and photographee) liked this photo best, featuring the in-focus mailbox with the anticipated collection of letters.
More about the letters later.
Michael Hyatt, speaker, author, and business mentor, has this advice about website banner photos and head shots: Update every two years.
It's good advice.
I once attended a conference where the head shot of each speaker was splashed on the overhead projector. Very few actually matched the person at the podium. The disparity left an impression on me — and not a good one (although the conference was quite good).
"Any ideas for updated photos? Location? Content?" I asked some of my creative team members.
One friend suggested Hollinshead Barn on a former working ranch in my hometown of Bend, Oregon. The property was donated to the Bend Park & Rec district by Dean and Lily Hollinshead. The park features several original outbuildings, including the renovated Hollinshead Barn, ideal for small weddings or other events.
Which is the perfect word picture illustrating how God delights in transforming old things and giving them new purpose.
About the bundle of letters in the photo: They represent my blog. A collection of hand-written letters — encouraging, hope-filled, thought-provoking, funny, blunder-filled, and maybe a little bit of prodding and meddling. But all written in love.
So you see, a method to our madness: A beautiful, old repurposed barn, and a mailbox of letters tied together with love.