Too bad it sometimes takes losing something of unspeakable value to appreciate what we had; that it takes mistakes to teach us some of life's most critical lessons.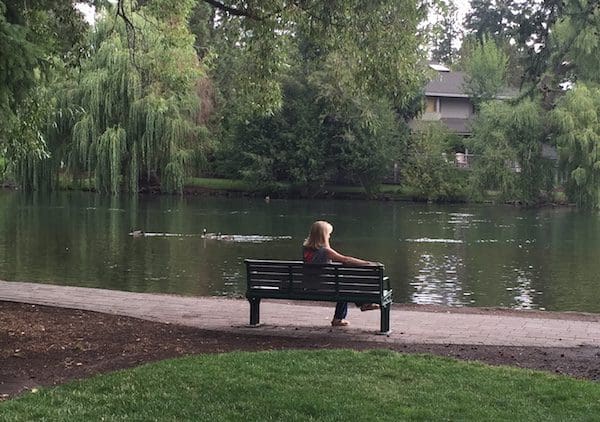 Photo credit: Kattaryna Stiles
Here are 5 mistakes I made before Hubby's cancer and widowhood, that I hope to never repeat:
Taking things for granted.
Although I never meant to, there are several things I took for granted, among them:
A faithful husband who never wandered
An arm to companionably loop my arm through as we crossed a parking lot to a ballgame, concert, movie
Someone who watched chick flicks with me without complaint
Someone who made me laugh with his ridiculously dry sense of humor
A considerate man who kept my gas tank filled (which caused me to nearly run out of gas a couple times as a widow, but that's beside the point)
An amateur plumber who kept all drains unclogged
Someone who enjoyed breaking trail in snowshoes, and sitting on tops of mountains, and taking road trips with me
A warm body to sleep next to
And that's the short list. There were so many benefits from being married to this man that I didn't mean to take for granted, but oftentimes did.
Having too much stuff.
There were three significant paring-down stages in our marriage. The first was devastating at the time. In the middle of what would be a two-year period of unemployment, we sold our home and cashed out our 401(k). We started over in our middle years, having lost everything we had worked for against retirement. Followed by these words: You have cancer.
The second paring down was more heart-wrenching than devastating. My mother, needing more care, moved from our home and we downsized to an 800-square-foot duplex. Not wanting to pay storage fees, we gave away years of furniture and accumulation, including the beautiful old upright grand piano that my parents bought when I was five years old, that I later taught our kids on, that our preschool-aged grandkids pounded on. That piano.
The third paring down was neither devastating nor heart-wrenching. After Hubby died, friends offered to move me back east closer to my daughter and her family, which was where I thought I'd end up. The catch: Everything needed to fit into their 10-foot cargo trailer. And what I kept, fit. Much like a 3-D jigsaw puzzle.
Plans changed. And while most of my earthly possessions are still in my friends' cargo trailer, I've managed to survive these past couple years without all that stuff.
Living with less is rather liberating.
Living too frugally.
Living frugally and within your means is a very good thing; living too frugally and not making memories or taking adventures with the people you love the most: not such a good thing.
Hubby and I had saved enough to take an Alaskan cruise on our 25th wedding anniversary. When it was time to book the cruise, we almost didn't. I mentioned to daughter Summer, away at college, that we were thinking about getting a new computer instead. In a very stern voice, she said, "Mom …" as if she were the parent and I the child "… you're. going. on. the. cruise." Well, OK, then.
The too-frugal option would have been to buy a new computer — which, by the way, would be in some landfill at present. But, oh, do I have some fabulous memories with Hubby in that astonishing land called Alaska.
Complaining about things that don't really matter.
Trivial things like, Hubby leaving all the lights on in the house. A kitchen sink that magically refilled itself with dirty dishes just minutes after the dishes were done.
But do you know how many women in the world would love to have a husband to turn lights on? How many would love to have electricity and light switches? Dishes and sinks and indoor running water?
You get the point.
Not chasing joy.
This thought from David Steindl-Rast:
The root of joy is gratefulness.
As bad news piled on top of bad news, Gary and I did our fair share of complaining. Eventually, though, we learned to look for things to be grateful for. And in time, I started a gratitude journal inspired by Ann Voskamp's book, One Thousand Gifts. A few recent entries, as my list continues to grow:
#660. Writing in a log-cabin-turned-coffee-shop — fire crackling, fluffy white stuff falling outdoors
#663. Sugar-frosted tree limbs hanging over my balcony
#674. Safe travel on trains and planes in inclement weather
#681. One-on-one dates with each grandchild — that my grandkids still like to hang with me
#696. Simple pleasure of being snowed in with fireplace flickering, knitting project, books arrived from Amazon
#706. Cradling mug of steaming Chai tea, looking across a beautiful white-blanketed valley
And with gratefulness comes joy. (Notice, also, how snow figures prominently in joy.)
This thought from G.K. Chesterton always speaks to me:
Here dies another day during which I have had eyes, ears, hands and the great world round me. And with tomorrow begins another. Why am I allowed two?
As life continues, I'll make more mistakes. But for now, this starter list of five I hope to never repeat.
What lessons have you learned from loss? 
P.S. If you found this post inspiring or helpful, please share, tweet or pin!