To some perhaps a frivolous topic, but when it comes to dealing with life's challenges, the simple act of brewing a cup of tea and sitting in a favorite chair, whispering a prayer and silently reflecting on all the blessings that are still evident despite the challenges, and then placing some of the weight on paper—a list of things to be done but not right this minute—well, right there, half the battle won. With tea leading the charge.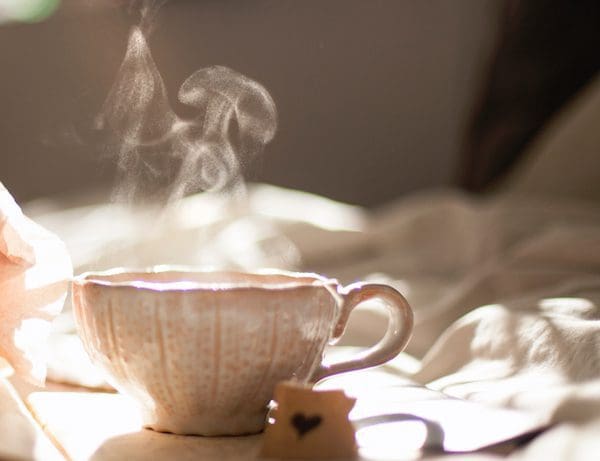 Photo credit: Unsplash
I'm home from Idaho for the second time in so many weeks. This time I brought the stomach crud back with me. And oh, there's no place like home when you're not feeling well.
I've been overdosing on tea and ginger ale and chicken broth and salty pretzels and tea and sleep and more tea. As of today, almost feeling human again.
Which caused me to think about the role tea played in my health and welfare during the cancer caregiving years, and in dealing with the suffocating issues of widowhood.
Tea was there. Tea never let me down.
"I don't feel very much like Pooh today," said Pooh.

"There, there," said Piglet. "I'll bring you tea and honey until you do."
This was me.
It's not so much about the honey-laced, steaming, amber liquid as it is about regrouping and sitting quietly, reflectively, wonderingly. Because tea makes you do that.
Tea can't be brewed and left on the kitchen counter while you throw in a load of laundry and post to Instagram because when you come back to tea, alas, all the therapeutic value is gone.
Freshly-brewed tea must be poured into a favorite mug and nestled with both hands; it must be sipped leisurely while it's still hot enough to wash away all the cares of the world.
And while cradling this mug of tea, there must be the inhaling and exhaling of slow deep breaths and the consideration that all will be well, that God will be with you through this hard thing, if you ask him to.
This wisdom from the undiscovered ramblings of Roderick Field:
Tea is the finest solution to nearly every catastrophe and conundrum that the day may bring.
I've enjoyed reading a fictional series of Maisie Dobbs books based on the history of WWI and leading into WWII. Maisie, British heroine psychologist crime solver, often brews a pot of tea while working on a mystery. And whenever tea is mentioned in one of these books, it stirs something within me about the notion of comfort and wisdom and grace and courage.
Tea makes me braver.
A while back, one of my beautiful nieces who knows me well posted this quote to my Facebook page:
She was an adventurer at heart; but oh how she loved drinking this tea from this mug in this chair. Oh how she loved to be home.
Yes, I love venturing out. But there is nothing more therapeutic — whether one is facing the stomach crud, or facing the loss of something or someone of infinite value — than home and steaming tea and a fleece blanket and snow falling and fireplace lit and a flickering candle.
This from an unknown author, which could have been me because doesn't it sound like something I would say?:
If asked, How do you take your tea? I reply, 'Seriously. Very seriously.'
Which begs the question: What therapies have helped you deal with the overwhelmingness of life?
P.S. If you found this post inspiring or helpful or just plain ridiculous, please share, tweet or pin!