At the encouragement of a friend, I presented at this week's IGNITE Bend event. IGNITE events are produced in places like Helsinki, Paris and New York City. Presenters get 5 minutes and 20 slides, which automatically advance every 15 seconds. The tagline is, "Enlighten us, but make it quick."
And so I applied to be one of the speakers. Because I didn't want to.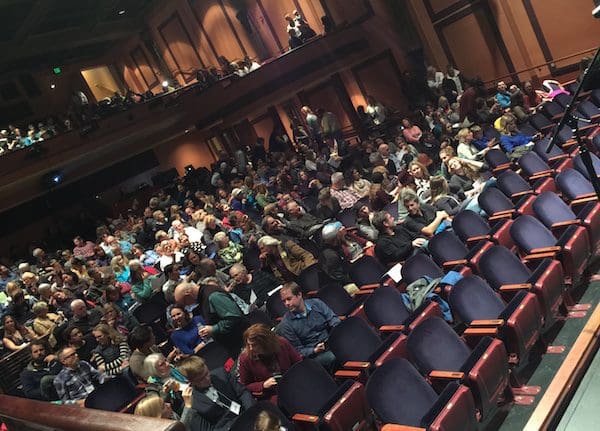 Photo credit: Amy Turner
The first speaker, who was also the emcee, stayed on stage after warming up the crowd. He delivered a fast-paced, loud speech with a rude-and-crude-style humor that elicited much laughter and applause.
"Uh-oh. This isn't the right venue," said the girl whose presentation was entitled: "What if you could manage adversity with grace and good humor?"
But it turned out to be a tremendously fun event. And one of the aspects I enjoyed most was meeting fellow presenters. Sam, the high school student who spoke on how to build a solar car; Jason, new to Bend with his family, presented on the importance of connection; and Amy, a single mom and businesswoman, talked about taking intentional pauses.
There was the informative, the inspirational, the educational.
I thanked my friend afterward for pushing encouraging me to apply for this opportunity. Because it ended up being part of my brave-making campaign.
A brave-making campaign comes from hard places that steal our courage and hope. It's a campaign that takes on opportunities and adventures to make us more courageous, despite losses and setbacks; it's part of living forward.
In my case, a brave-making campaign is:
1. Going places I've never gone without Hubby, like hiking some of our favorite trails. Alone.
2. Visiting places/doing things Hubby and I talked about visiting/doing before we ran out of time. Such as the walking tour in Switzerland last fall.
3. Signing up for experiences that scare me, hence, IGNITE Bend.
A brave-making campaign is designed to route us away from ease and security into places of discomfort. Until those places become more comfortable, and fear loses its advantage over us.
Consider this quote from Erin Hanson, a young writer from Australia:
There is freedom waiting for you on the breezes of the sky, and you ask, 'What if I fall?' Oh but my darling, what if you fly?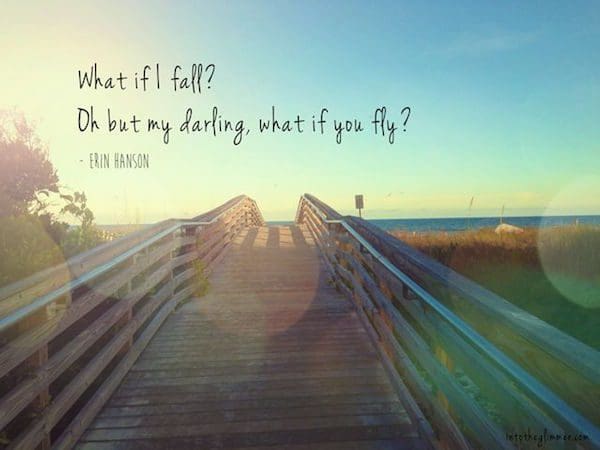 Photo credit: IntoTheGlimmer.com
This quote caught my eye because it was Hubby and me.
Hubby — my careful, analytical, think-all-things-through husband who balanced my ultra-optimisticness — used to ask things like, "What if you can't raise enough funds for the students to travel to Europe?"
Me: "But, honey, what if we can?" (And we did. Four years in a row, if you also throw in the Australia trip.)
Hubby: "What if you lose a student along the way?" (He never actually asked this question, but you get the idea.)
Me: "But what if I don't?"
Truth be known, I'm glad Hubby was cautious by nature. We were a good balance for each other and I truly valued his wisdom.
When my adult children first encouraged me to take an early retirement to continue blogging, write a second book and get back into speaking, I wasn't excited about the speaking part. Hubby and I had always presented tag-team style. He made it fun with his dry sense of humor.
"What if they don't understand/laugh/clap?" I asked myself at the thought of speaking on my own.
"But what if they do?" I could almost hear Hubby say in response. Touché.
So, my next brave-making venture: Hubby and I talked about visiting the historic town of Joseph—population 1000+ on a good day—in the farthest northeast corner of Oregon. One of those things we didn't get around to doing.
I've reserved a room in a bed-and-breakfast there on my way to Idaho for Thanksgiving. (Actually, Joseph isn't really on the way to anywhere; I'm going to have to backtrack to get to Idaho.)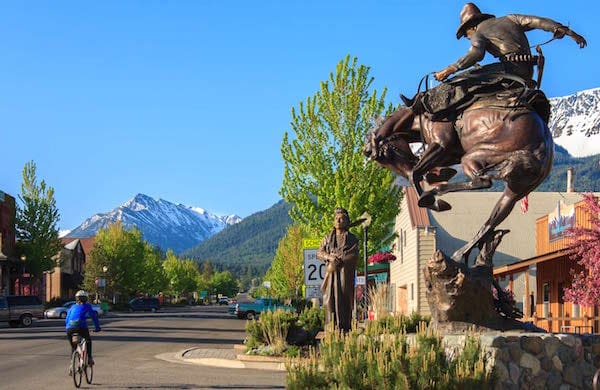 Photo credit: JosephOregon.com
Also on my brave-making list: A weekend at the Oregon coast. And maybe applying for a TedX Talk.
This I know from experience: The more I choose not-so-comfortable endeavors, the more courageous I become. And with our limited number of days on earth — but with courage — imagine what we can accomplish.
What's on your brave-making list?
P.S. If you found this post helpful, please share, tweet or pin!