A road trip to Idaho this week. Alone. Hung out with my fabulous in-laws. Walked a trail I hadn't been on since hiking it with Hubby. Missing him more than normal. One of his hugs would be nice right now.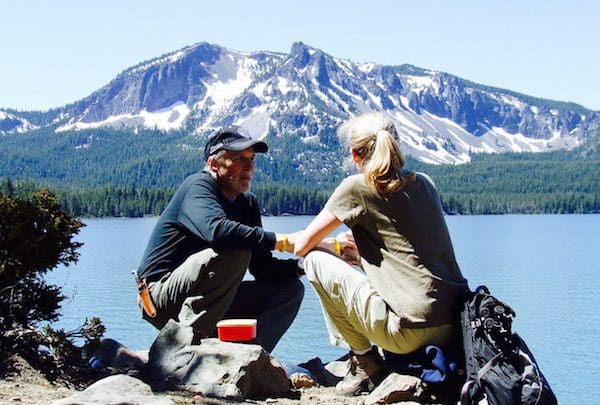 The settings
#1: Earlier this week, I spent a few days with two sets of brothers- and sisters-in-law and a couple of nieces/nephews in a lovely log cabin on a remote Idaho ranch. Gary and I always enjoyed going out to BIL's ranch. One of our favorite activities was piling into the old Jeep and riding the perimeter, which would take at least an hour. While riding the range this past week, we spotted several does with their speckled fawns, a couple of coyotes, a black bear, and the largest bull elk any of the guys had ever seen on the ranch. Pretty exciting stuff for this city girl (who is really a country girl at heart). Add to that the playful banter of the Johnson boys teasing their wives … and it all made me miss Hubby. More than normal. Not a mournful kind of missing, but a definite hollow space that was once filled with a good friend who enjoyed riding the range, looking for wildlife, teasing his wife, nuzzling up to her.
Setting #2: On Friday, back home in Oregon, I spent most of the day reading and writing in Drake Park in the shade of tall evergreens overlooking the Deschutes River. As Hubby started slowing down, a good many of our Friday night dates were in Drake Park with take-out food and Words with Friends. Being here in the same lawn chair under the same tall trees brought back bittersweet memories. It's still an enjoyable thing to do — this beautiful outdoor office — but it's different. Very different sitting here alone.
Setting #3: Yesterday I hiked the Metolius River with my fabulous cancer-kicking Walking 4 Wellness posse members — a portion of the Metolius that I hadn't trekked since last hiking it with Hubby. Sigh.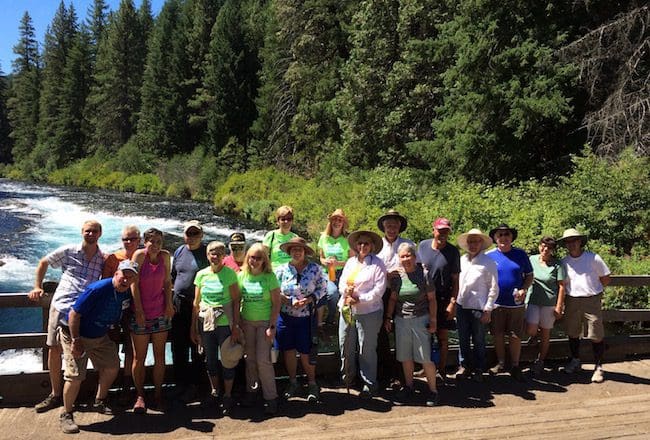 Photo credit: Donna Hahn
This meme. It expresses exactly how I'm feeling at the moment:
One of your hugs would be nice right now.
The options
The way I see it, there are only two options for living life after disappointments, news of cancer, heartbreak, loss:
A) We can stay home and avoid the places that remind us of that good thing we once had. We can stop doing things that resurrect memories. We can slowly break off relationships with people who remind us of happier, healthier, better days.
… or …
B) We can lock the front door behind us and—armed with backpack, hiking boots, camera, lawn chairs, sunscreen, stand-up paddle boards, snacks, bathing suit, national park passes, GPS—set off to make new memories. And we can love and appreciate the people in our lives who still want us around.
This wisdom from Richard Paul Evans:
We can spend our days bemoaning our losses, or we can grow from them. Ultimately the choice is  ours. We can be victims of circumstances or masters of our own fate, but make no mistake, we cannot be both.
That simple. The choice is mine. And I choose a good, full, contented, grateful life. Even though one of Hubby's hugs would be so good right now.
What about you? If you've experienced loss — of health or relationship or finances — how are you spending your days? What choices are you making?
P.S. If you found this post inspirational or helpful, please share, tweet or pin!