I have two crazy friends—well, I actually have more than two, but these particular two are married to each other—who decided to run a first-ever marathon (Jim) and take on Pole Pedal Paddle alone (Michelle) as a way of celebrating milestone birthdays this year.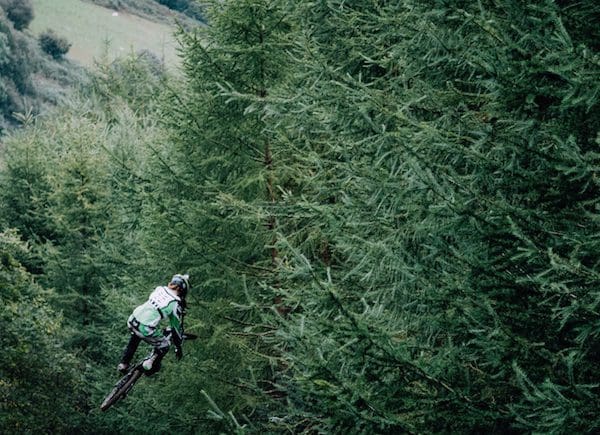 Photo credit: Unsplash
You already know what a marathon is. Twenty-six-point-two punishing miles. One foot in front of the other, step after step, mile after mile, hour after hour. Keeping on when you want so desperately to bail.
But you may not have heard of central Oregon's Pole Pedal Paddle. It's a crazy race with six legs: Leg 1) alpine skiing/ snowboarding, which includes a 200-ft uphill sprint to jump into ski boots; Leg 2) 8km of cross-country skiing; Leg 3) a 22-mile bike ride; Leg 4) running five miles of river trail, dodging rocks and tree roots; Leg 5) one-point-five miles in a canoe, kayak, or stand-up paddle board, upstream and down; and Leg 6) a half-mile sprint to the finish.
You can do this as a relay team, or in the case of Michelle, you can do the entire thing on your own. (I know. Crazy.)
Michelle is the fearless leader of the Walking 4 Wellness walk-star group out of St. Charles' Cancer Center. Three years ago, she approached us about combining a couple of her passions: 1) encouraging people to add more movement to their lives, and 2) helping people who are dealing with cancer.
After the first Walking 4 Wellness fall series, Michelle recruited her hubby Jim as trusty assistant. J&M have led us all over Bend's back streets and trails, and into all the homegrown coffee shops, of which there are many.
As we waited for Michelle to reach Riverbend Park this morning, where she would transition from running to kayaking, Jim said something that made me think about how having cancer is like participating in an extreme event, such as a marathon or PPP.
Having heard that Michelle had cramped up getting off her bike before starting the five-mile run and knowing she hadn't taken much nourishment during the two skiing events, Jim reflected on his recent marathon — how he had to pull deep from some place within him, and how he knew Michelle had that in her.
"Come on girlfriend," he said quietly as we waited for her to show up in Riverbend Park.
Michelle in rose-colored top, strapping on flotation device while running toward her kayak
The pulling-deep-from-some-place-within comment made me think of Hubby's cancer-fighting years — how proud of him and grateful I was that he didn't give up, that he cooperated with me in the changing of our diet, he was faithful to our increased physical activity, he loved giving back through speaking words of hope and encouragement to cancer audiences across the country.
Hubby pulled all this from some place deep within him while cancer continued its onslaught and he endured the side effects of treatment.
Today, as we stood waiting in Riverbend Park, Jim also ruminated on the team of people who showed up to cheer him on for his marathon, the same group that is here today for Michelle. "Knowing there were people pulling for you made all the difference," he said.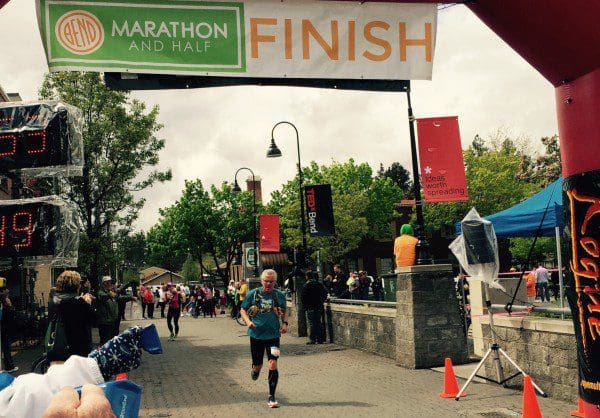 Jim finishing strong at the Bend marathon
After the race, Michelle made a similar comment: "Seeing all your faces on the bridge was just …" (here she hesitated, searching for the right word) "… power."
Which made me think of how power-giving our support team was — our family, our friends, people from the central Oregon cancer community. These were people who got it. Who showed up when we needed them. Who brought meals and flowers and gifts. Who did the manly jobs that I wasn't capable of doing as Hubby spent more and more time in the hospital bed that dominated our living room.
This is what Michelle's support team looked like today, the same people who were cheerleaders at Jim's marathon just a few weeks ago.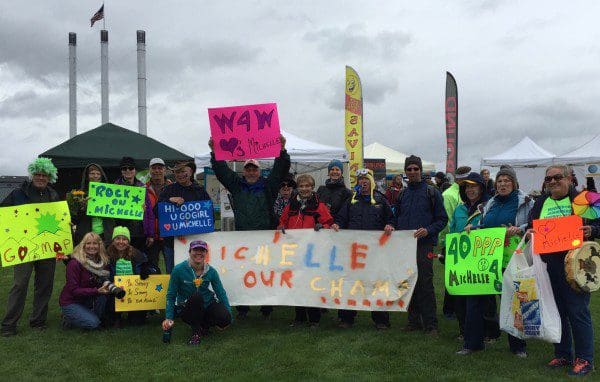 Jim and Michelle's support team
Jim, who will be sixty this year, wanted to finish his first-ever marathon in under five hours. His time was 4:53:30. Michelle thought it would take her between 3.5 and 4 hours. Her unofficial time was 2:55. Michelle is turning forty this year.
Which reminds me of a Shel Silverstein poem:
Listen to the mustn'ts, child. Listen to the don'ts.

Listen to the shouldn'ts, the impossibles, the won'ts.

Listen to the never haves, then listen close to me …

Anything can happen, child. Anything can be.
Which begs the question: What are you battling, who's on your support team and who are you listening to? 
If you found this post helpful or inspirational, please share or tweet!