These words from a 2014 Mother's Day blog post when Gary was still here to make Mother's Day — and every other day of the world — extraordinarily special:
Hubby said those five magic words that made my heart beat more quickly: 'Reservations at Kokanee Café at 5:30.' (Or is that six words? Is 5:30 a word?)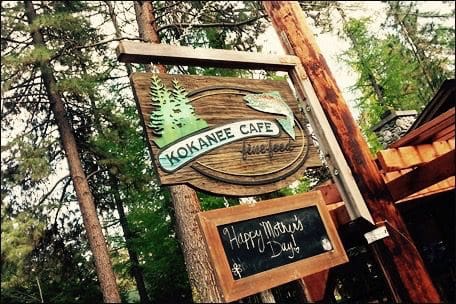 "Part of the pleasure of reservations at Kokanee Café," I wrote two years ago, "is first a walk along the Metolius River." Which we did. Slower than normal because cancer was claiming more and more territory.
Hubby had been dropped from the clinical trial in Seattle, so food was just beginning to taste good again as chemo was slowly working its way out of his system. He ordered more than he could possibly eat in one sitting—the double cut Fennel-and-Coriander-Brined Pork Chop with Broccolini in Cherry Jus—but at least something sounded good.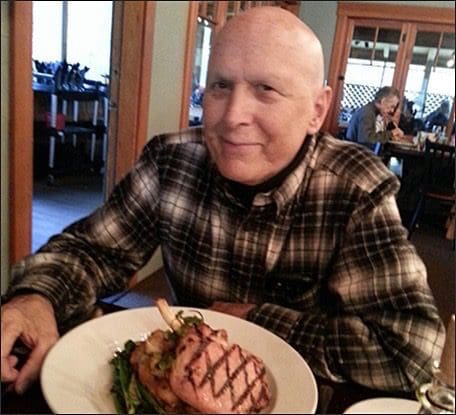 This is the point in the blog where I would write about how lonely it is without Gary, how these special days just aren't the same, and never will be the same again.
But that wouldn't paint a completely accurate picture.
It's true; commemorative days aren't the same. But it's also true that I've had a great 2016 Mother's Day.
I attended church; hiked the river trail from Farewell Bend Park out to the footbridge; had Spork's fabulous fish tacos for dinner (only the best fish tacos this side of that little hole-in-the-wall place on the boardwalk in Venice Beach that Son Jeremy and DIL Denise introduced me to).
Would I have rather done these things with Gary? Do you even need to ask? But can I choose to embrace the new direction my life has taken? Of course.
Reading about our last Mother's Day together was a sweet memory. And of course I couldn't know at the time that Gary would die in the fall of that same year. But from that previous blog post:
I am feeling so very surrounded and loved at an uncertain time in our lives. This mother's heart is overflowing.
Ironically, I feel the same today. It's two years later and I'm without my husband on this Mother's Day. It's still an uncertain time in my life. I'm reaching for something that far exceeds my grasp — to get a book published and step back into speaking.
And I'm still surrounded by love. Content. At peace.
What is wrong with me? Or should the question be, "What is right with me?"? I attribute it to a handful of things that I keep coming back to, that are worth repeating:
1. Carry low expectations, as in, the world does not revolve around me. On this Mother's Day, my family members are also moms. They're spending time with their own broods. I plan to sweeten my day and reach out by phone later on to some of my favorite women who are moms.
2. Foster an outward focus. I walked with my cancer-kicking walking group yesterday. There were three lovely women in the group who are undergoing — or recently completed — chemo. And with the beautiful bald heads to prove it. When I focus outward, my own stuff becomes insignificant. And if that outward focus can be a prompt to help ease someone else's load, then all the better.
3. Practice gratitude. I'm still counting all the good in my life. Even with unspeakable loss. This mom-sister-grandmother-aunt-but-no-longer-wife still has a heart overflowing with gratitude.
4. Cultivate faith. There is this thing that undergirds my entire life — my faith. If there is any strength or kindness or wisdom in me, it is Jesus Christ in me.
These are all points I've written about in the past. But worth repeating.
If you've lost someone precious beyond words and are still feeling the pain of it, please allow yourself time to grieve.
And when you're ready to even think about moving forward on your new path, then consider these simple, practical steps that have helped me back into life.
P.S. If you found this post helpful or inspirational, please share, tweet or pin!