Pay attention to what doors are opening for you on this new journey that maybe you didn't want to take but you're there nevertheless and so why not make something beautiful and purposeful out of the loss and the sorrow — that journey.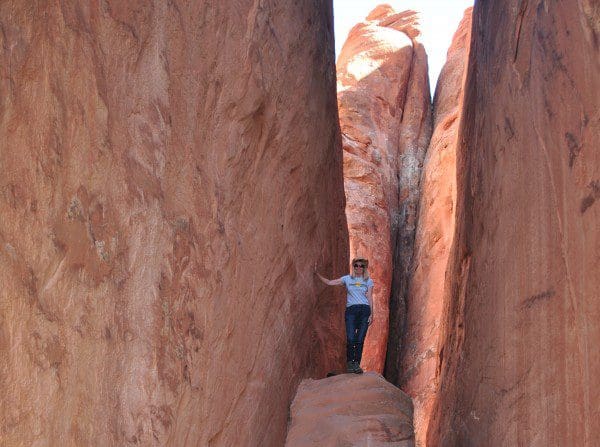 Photo credit: Gary Johnson
I recently pulled a book off the bookshelf, one I had read before — Stir: My Broken Brain and the Meals that Brought Me Home by Jessica Fechtor.
It's a young woman's story of a brain bleed and multiple head surgeries on her way to a doctoral degree and her longing to be back in her kitchen creating good food for the people she loved:
During those long months [of illness and recuperation], food had called something up in me that needed calling, demanded things of me that my academic work had not. It had inspired me to make something of the everyday life around me, of my home and of my heart, to make something of myself. My kitchen wasn't the route back to the person I had been. It was the route to who I would become.
This resonates with me, this notion that something hard — something you never wanted to happen — can redirect you to who you would become. That it can bring opportunity to better serve, or to serve a different grouping of people you would otherwise not have known.
I have come to understand this notion, for it was during our long years of financial setback, a live-in aging parent, cancer and eventually death that writing became the passion that called to me.
Writing was restorative. It motivated me to look for something to write about, which means I noticed life better and the heap of details that make up life. It helped me create some sort of sense out the long parade of senselessness.
So, how do you make something of your everyday life? Here are 3 thoughts:
1. Choose to make something of your everyday life. The first step is to want to. I keep coming back to the truth that we get to choose so much in spite of all that we didn't choose that we didn't want to happen that made our life harder. We choose to notice and be grateful for this one, priceless irreplaceable gift — this day of lungs circulating breath in and out; of people to love and people who love us; this life of beauty in an ugly world of war and abuse and cancer, but still, snow-peaked mountains and spring in all her glorious color and early-morning sun streaming in through east windows.
If there is the desire to make something of your everyday life, then you're on your way.
2. Make something of your home. Ah, the magic of hospitality. Not too long ago, my sis-in-law and her sister spent the night on their way from California to Idaho. The next morning, I pulled out my hot plate and sautéed fresh spinach and stirred it into scrambled eggs and melted cheese on top; and peeled a couple of sweet oranges and arranged them in a circle; and made hot honeyed tea. And the three of us sat at my tiny dining table and it was a lovely and unrushed breakfast. Even if your place is small, even if you don't have a full kitchen, even if you can't afford a prime cut of meat, make something of your home, something that says, "Welcome, put your feet up, rest a while."
Create a haven for those who need refreshing after life's dusty roads.
3. Make something of your heart. I've shared the quote from Kate Braestrup, widowed when her husband, a highway patrolman, was killed in the line of duty. She talks about leaving the stones on the grave and setting aside fear to …
… toss your fragile glass heart into the waiting crowd of living hands and trust that they will catch it.
Think about who you can open your heart to. Orphans. The elderly. Cancer patients; caregivers who are suffering right along with their loved one. Single moms. The abused, the homeless, the addicted. Share as much of you as you possibly can. This profound little snippet of thought from Jessica Fechtor's book about baking:
I don't care how big your sweet tooth is, you can't eat all those cookies alone. You bake to share. Baking is an act of generosity, and thereby an act of freedom, since to be generous is to be free from the smallness of thinking only of yourself.
I like the idea of being free from the smallness of thinking only of myself. What can you share of your story, of your life that would bless others?
Make something of your heart by being willing to give it away.
***
From the time I decided to take the advice of my four adult children (have I ever mentioned how much I love these young people?) and stepped away from a good job with excellent benefits and downsized to a fixed income to pursue writing full-time — from that time to this, so many doors have opened, the most recent being these:
a) A mutual friend introduced me to someone who has been in the publishing industry for more than 30 years, someone who has agreed to critique my book proposal
b) I was accepted into a women's writing and speaking association and received a full-ride scholarship to their annual conference in Cincinnati (confession: I used the cancer widow card)
c) At a recent fundraising event, I was seated next to a published author who is going to approach her writers' critique group about inviting me to join (how valuable would a critique group be?!)
d) I am now a regular contributing writer for five national and/or international web organizations
Just as the author Jessica Fechtor says about her kitchen, my writing wasn't the route back to the person I had been. It was the route to who I would become.
And who I would become is this girl sitting here writing in this book store café, alone but not alone, with so much gladness of heart, with so much joy and pervading peace that should not be — except for God — and with endless future opportunities. How blessed am I?
What about you? Has life hit you a few curve balls that you hadn't counted on? Do you yearn to make something of your everyday life, of your home and heart? What are you going to do about it?
If you found this post inspirational or helpful, please share, tweet or pin!