It's normally a five-and-a-half-hour drive across the high desert from Boise to Bend, including a Chai tea stop. Yesterday it took seven hours to get home because of all this beautiful white fluffy stuff that had decorated the landscape. And the mailboxes.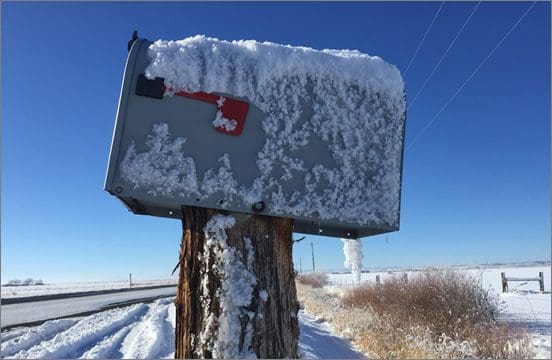 It may not be as safe driving alone across this barren land in winter as it is in the not-winter months (although Daughter Summer is quick to point out it's not yet winter according to the calendar and they still have autumn color on the east coast). But the adventure is worth it. Always.
Last week, I read a thoughtful blog by Bo Stern, a recent ALS widow and author from my hometown. She writes that her word for 2016 is Yes.
Yes moves me forward. Yes keeps me thankful. Yes makes me brave. … What if I said it a lot? What if I said it every day? Yes to joy. Yes to hope. Yes to things that scare me. … Yes to all-caps LIFE.
After reading her blog, I realized this is what I've been doing my first full year as a widow.
In January, yes to taking an early retirement at the encouragement of my children to pursue the Cancer Adventures mission and write that second book. Scary thing, this trading in a good job for a small fixed income.
Yes to living in SoCal for a few months. Because this is where Son Jeremy and DIL Denise offered no-cost rent. And a bike with pink rims. Long hours of writing. Exploring Marina del Rey and Venice Beach on bike. Hiking in the Hollywood Hills. Touring through the Samuel Oschin Observatory. The Museum of Tolerance in downtown LA. The Getty Museum on the hills above Pacific Palisades.
In March, this text: "Just got off phone with adoption agency. Our court date is Monday. In Uganda. Can you come?" Yes to being in New Jersey two-and-a-half months with the American-born grandchildren while SIL Josh and Daughter Summer make two trips to Uganda to bring home three little brothers.
In July, yes to joining Jeremy and Denise in Puerto Rico for a week with family and friends in celebration of their anniversary. Yes to taking stand-up paddle board lessons while there.
August: Yes to moving back to Oregon where affordable housing miraculously presents itself.
September: Yes to a 10-day walking tour of Switzerland. Forest. Vineyard. Lakeside paths. Exploring villages and towns. Gondola rides up to hanging bridges and alpine trails.
November: Yes to joining Josh & Summer and the six grands for a few sunshiney-warm days in Orlando. Swimming pools. Water slides. Magic Kingdom.
"We have some airline miles," says Josh, thinking ahead to Christmas. Yes to joining Josh & Summer and the grands in Jersey for the Christmas festivities.
While in Idaho this week, bro-in-law said they were thinking of doing an Alaskan cruise. Did I want to join them? You'll never guess how I responded.
Although this blog is written from the perspective of a cancer widow, there are good reasons for all of us to practice saying Yes:
1. Audacious living. Saying yes makes for a much more interesting and adventurous life. It makes for a better story. A better legacy to pass down to those who are watching you live audaciously.
2. Great opportunities. Saying yes to one opportunity can lead to another opportunity that might not otherwise have presented itself. An opportunity you didn't even know you wanted.
3. New friends. Yes means new people to meet, new friends to make. During the ten-day walking tour in Switzerland, I connected with all 23 fellow trekkers. We've kept in touch via email and Facebook. And they're all invited to Bend next spring to hike the Oregon Alps with me.
4. A remarkable something. We can spend money on stuff — stuff that wears out, becomes outdated, sets in storage units. Or we can spend money on adventure and volunteer opportunities and sign language classes or sky-diving lessons, which all come with something remarkable that cannot be taken from us. And I think this remarkable thing is sometimes called education; and sometimes it's called memory-making; sometimes it's referred to as wealth; and other time as camaraderie.
The thing about saying yes is this: It's far more comfortable to stay home wearing your husband's favorite flannel shirt, feet up on coffee table watching say, a travelogue on the inland Alaskan passage than it is to actually book a cruise and get through security and sit in cramped spaces on an airplane to get to the start of the adventure.
Oh, but the adventure is so worth it.
I'm in the middle of a book by Bob Goff, entitled Love Does. Goff is a man who didn't have the grades to get into law school, so he sat on a bench in the Admissions Office for a week until the dean finally let him enroll. A man who encouraged his children to write heads of state around the world, and then took his kids on a global trip to visit the 29 heads of state that responded with an invitation. The man who founded Restore International, a non-profit fighting injustices committed against children in Uganda and India.
Goff says this about living life as an adventure and saying yes:
God asks what it is He's made us to love, what it is that captures our attention, what feeds that deep indescribable need of our souls to experience the richness of the world He made. And then, leaning over us, He whispers, "Let's go do that together."
How about you? What do you need to say Yes to? What adventure and fuller life is waiting for you?
If you found this post to be inspirational or helpful, please share, tweet or post!