A year ago today, my husband, Gary, checked into Hospice House for the second time. Never to return home.
Not too long after, I was running errands and came upon this billboard, which I've seen numerous times. But still it caused my heart to flutter. Because these were the women who lovingly cared for Hubby in his final days.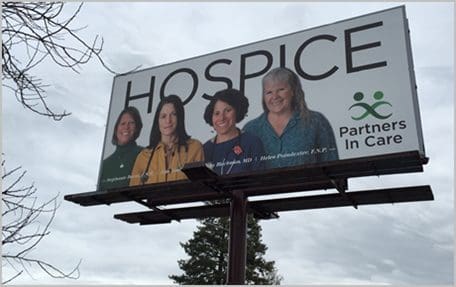 And if I had to put a name to the heart flutter, I'd say it was a mixture of gratefulness and sorrow and gladness. Which sounds a bit oxymoronic, but those last days were sweetly sorrowful, and my heart was grateful for Hospice House and its compassionate team of doctors and nurses.
How does the caregiver know if and when to get hospice involved? It's actually as simple as a physician's referral. People usually qualify when their doctor signs a statement saying that patients with their type and stage of disease, on average, aren't likely to survive beyond six months.
"No more chemo," Gary said. "Because the first two didn't do any good." Whereupon the oncologist took the opportunity to suggest a referral to hospice care.
"Hospice will help take care of the patient and the caregiver," he said. "It's a good idea to get them involved early," he said. "Instead of waiting for a crisis."
A hospice nurse and social worker visited our home. Gary was examined. An application was completed. A hospital bed was ordered. An array of reading materials were provided. And Gary and I were encouraged to talk about funeral arrangements. Seriously? Isn't that a bit premature?
Melinda, our field nurse, stopped by to introduce herself. We liked her immediately. She was a good match for Gary. Feisty.
The hospice social worker called a couple weeks later to see if we had any questions. She gently asked if I had visited the funeral home. I had not. Somehow, though, I knew I'd be glad to have the visit behind me. Sigh.
This from a National Cancer Institute web article:
Many people believe that hospice care is only appropriate in the last days or weeks of life … Research has shown that patients and families who use hospice services report a higher quality of life that those who don't.
This was certainly the case for us.
As those last few months passed all too quickly, here's what I learned about hospice care that I wish I'd understood sooner:
1. Hospice doctors and nurses seek to manage symptoms and provide comfort when a cure is no longer possible.
2. Most families with a terminally-ill loved one wait too long to get hospice involved.
3. Hospice care is for the caregiver(s) as well as the patient.
4. Hospice services include at-home nursing care. Field Nurse Melinda scheduled regular visits. But she also gave me her cell phone number for any questions or concerns during her workday.
5. An after-hours phone number is provided for questions and middle-of-the-night emergencies.
6. A home health aide is available for the patient's personal needs and bathing.
7. A lymphedema massage therapist stopped by to work on Hubby's swollen legs, courtesy of hospice care.
8. Pharmaceutical services are included. When I was no longer able to leave Hubby alone, pain meds were delivered to our front door.
9. Medical equipment and supplies are part of the package. We eventually had a hospital bed, tray table, commode, morphine pump, oxygen tank and walker. Our kitchen counter looked like a mini-pharmacy. All supplies delivered to our home as needed.
10. Hospice provides caregiver support and training. For counseling or hard conversations, a social worker or chaplain is available. For basic training with minor procedures — in my case, keeping tubes flushed, bags drained, dressings replaced, and once, all-night duty administering meds through PICC line — Nurse Melinda was my instructor.
11. Bereavement support rounds out the package. I plan to sign up for a widow's grief class in January. Not because I need help with grieving, but I would enjoy meeting other widows.
12. Added bonus: The hospice program in our hometown provides a beautiful home-like setting that welcomes family members and friends should the patient need round-the-clock medical attention. Each room has a private bath, small fridge and window seat overlooking a garden and fish pond. A common dining area is stocked with coffee, tea and homemade cookies for guests. And in the common living room, a grand piano sets among the overstuffed chairs and stone fireplace.
In my experience of standing watch as Hubby slipped away from me, hospice care was the intermediary that helped make it a sacred, sweet, comforting experience.
Thank you, hospice team.
P.S. If you found this post helpful or inspirational, please share, tweet or pin!