The idea was to leave a gift on someone's front porch on September 22 in honor of Hubby's birthday and our anniversary. Participants were asked to take a photo of the gift, and then post to Facebook or send via email with a blurb about who and why.
I'm pleased to report that the Porch Fairy was seen as far away as Lijiang, Yunnan Province in China.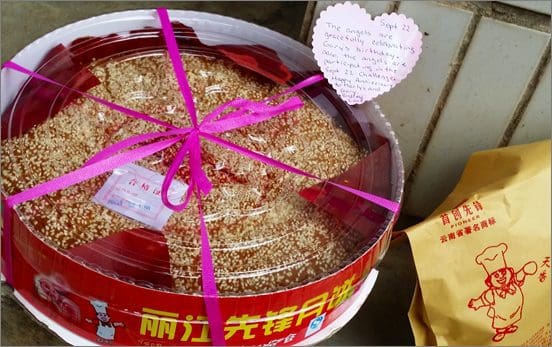 Dorbina left a wrapped cake on the doorstep of Yunnan Adventures. "The owner of the travel company is Charlie Li … an amazing human being," wrote Dorbina. "A message was sent to him by WeChat (China's version of Facebook) to check his porch." I love that!
Mary wrote from the John Day Wilderness: "I committed to being a Porch Fairy, and contributed to the fire victims in John Day."
Marci reported that she and her son left a little surprise on his tutor's front porch. "Thanks for the challenge! What a great way to remember and celebrate!
"I chose my dad," wrote Janelle, who posted a photo of a gift bag on her parents' country front porch. Right next to the rusted milk can with the sunflowers. And the horseshoe art.
Rachel reported that it was fun being a porch fairy to her high school best friend who she almost never sees. "Thanks for the fun challenge!"
"Took flowers to these lovely ladies at Meridian Dental, in honor of Gary and Marlys," wrote Karen.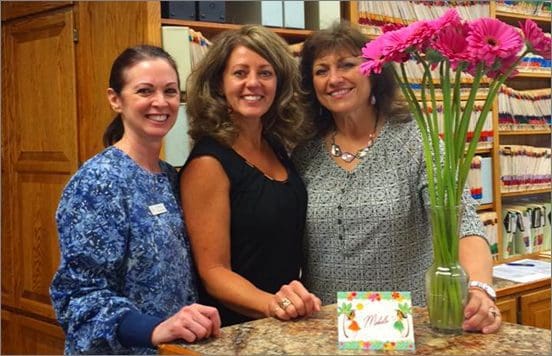 One of my ex-rah-rahs, Anne, posted: "I treated my girls for S-bux Vanilla Bean Frap this morning! I forgot to take a selfie with them. It's not a front porch drop off but I did drop them off at school with it!" That definitely counts.
Chris wrote: "Yesterday I extended my porch to a couple in town for PT … so does it count?"
Of course it counts. And what a lovely gesture of hospitality! Here's what that particular porch looks like from across their pond: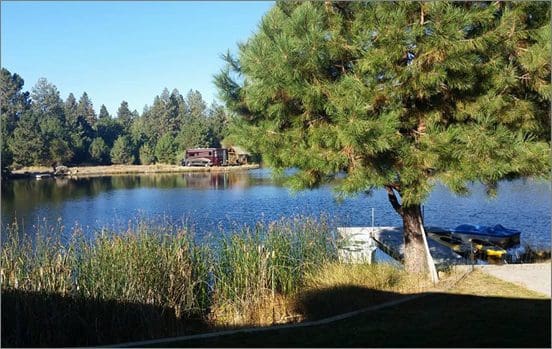 Cheryl chose her neighbor. "She is an amazing lady and SUCH a good friend that she actually went to the DMV to pick up [my husband's] temporary handicap placard! She is my yard fairy — I'll catch her planting or pruning flowers in my yard. I've never had a live plant in my yard before and now it looks like a magical garden." Cheryl left gorgeous sunny blooms on her neighbor's porch.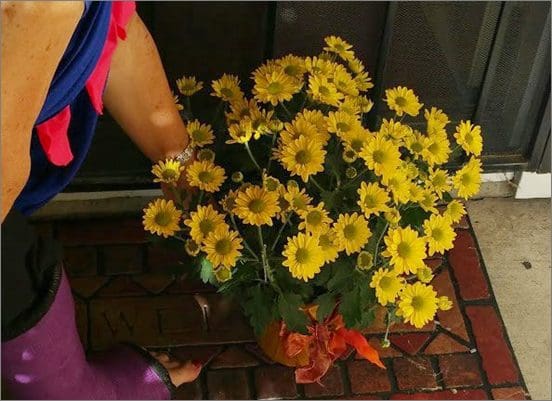 "Porch mission accomplished," wrote Nancy. "Fresh local produce and homemade cookies on fellow travelers' doorsteps!"
Lizzi left cider and homegrown veggies on her friend's porch because she "needed some extra TLC."
Julane left a Starbux gift card on the windshield of a deserving recipient.
Becky got something for my Porch Fairy's front porch — you know, the original Porch Fairy who left daily Chai tea and Americano coffee for Daughter Summer and me; a variety of yummy foods; toys and fleece pillow case for Hubby; floral arrangements and autumn leaf arrangements. And Starbux gift cards. That Porch Fairy.
Meanwhile, this same original Porch Fairy reported that she prepared chocolate thank-you gift bags for their garbage man, mailman and newspaper guy. But she dared not leave the gift on top of the garbage can for fear it would get dumped right along with the garbage.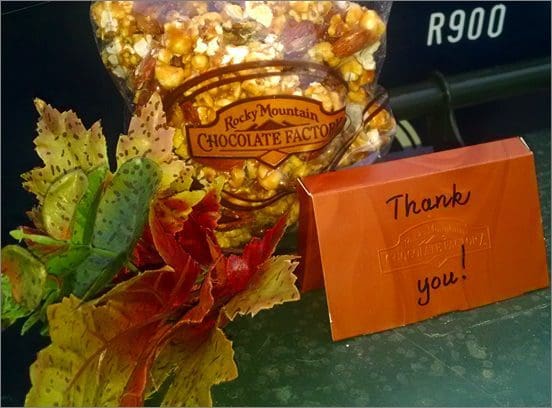 Photo shoot on lid of garbage can, but gift not left there
Krissy wrote that she had planned a porch fairy gift for her grandpa. "But he passed away yesterday of cancer. I'm on my way to Montana right now to be with my grandma. I'm bringing her wine (because she loves it), M&Ms (because that is what she would bribe me with when I was a toddler and was unsure of her) and myself (to comfort her and help in any way I can). Thank you for this Sept 22nd challenge. I loved reading what other porch fairy participants did!"
Roxanne mailed a lovely card with a surprise check. "I loved your idea to do something for someone else — it does help get our focus off of our own stuff. So I'm sending you this check to do with as you please. I hope it will go toward something fun!"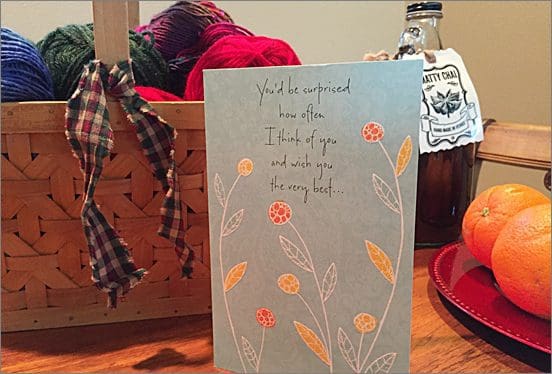 Wow, the thoughtfulness of people in all these stories. I continue to be amazed and overwhelmed.
And then Julane reported a Porch Fairy Part 2. "Since you weren't here to enjoy the pumpkin bagels and vanilla cream cheese, mom and I ate them." And this photo of the fabulous aforementioned bagel: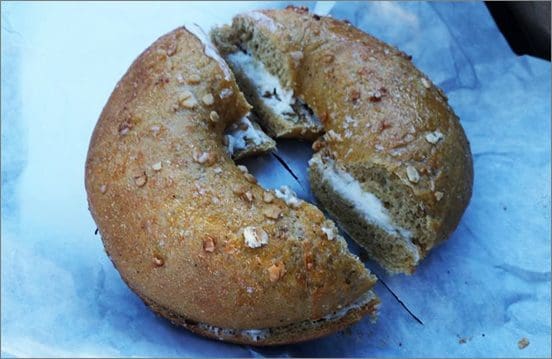 I wasn't sure whether to feel honored. Or upset. I mean, who posts photos of wondermous food and then says, "Na-na-na-na-na-na … you didn't get any"? Who does that?!
(Actually, I clearly remember a crisp autumn morning in which Julane delivered pumpkin bagels with the delicious flavored cream cheese to Hospice House. And I well remember what that simple gesture meant to me as Hubby was slipping away. Very much honored by this bagel post and photo.)
And so, while I was a world away in Switzerland on September 22, my heart smiled at the texts, emails and Facebook postings. Because they each helped make Hubby's birthday/our anniversary incredibly memorable.
So, mark your calendars for next year because the Porch Fairy Challenge will be an annual event. And actually, you don't need to wait another year to leave a bit of love and encouragement on someone's front porch.
P.S. If you found this post inspiring or helpful, please share, tweet or pin!