If hiking boots are your first choice of footwear—and they are mine, right up there with going barefooted—then consider the dozens of incredibly amazing mountain trails near Bend, Oregon.
But that's not the reason I want to move back.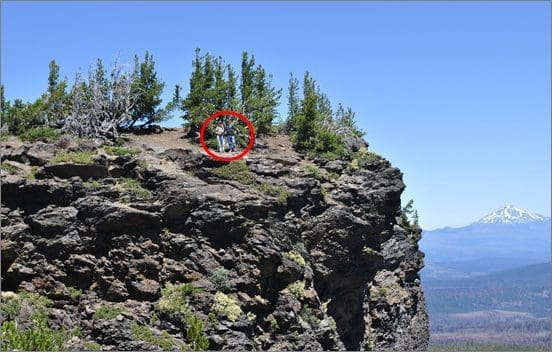 Hubby and me on Tam McArthur Rim, 1200 feet above the trailhead
Though Bend plays host to dozens of educational and entertaining events – that's not why it feels like home.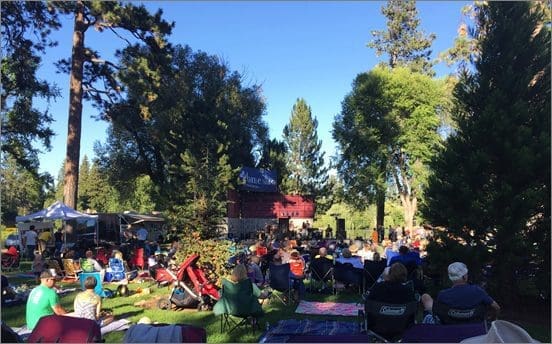 Part of the Munch 'n Music crowd in Drake Park Thursday evening
And though central Oregon is the place where winter Olympic athletes train; where world-class rock-climbers play; where people with mountain bikes actually ride them on mountains; where you can catch some white water rapids …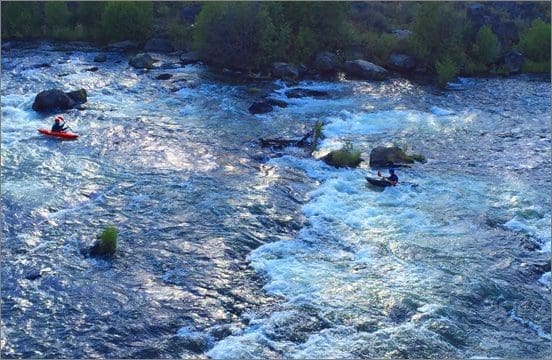 These kayakers, on Friday evening's hike along the Deschutes River
… and ride a Sno-Cat to a secluded lodge by a frozen lake on the backside of Mt. Bachelor – these aren't the main reasons I love it here.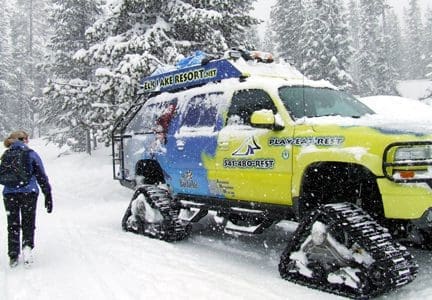 Sno-Cat to Elk Lake Lodge
The reason I'd like to relocate back to Bend is because of community.
And here are my top 4 reasons for joining community:
1. We need human interaction. In a Scientific American article entitled "Why We Are Wired to Connect," scientist Matthew Lieberman makes the case that our need for connection is as fundamental as our need for food and water. This from Lieberman:
The data suggest that we are profoundly shaped by our social environment and that we suffer greatly when our social bonds are threatened or severed. When this happens in childhood it can lead to long-term health and educational problems.
2. There's someone pulling for us. I have a great church community and a lifetime membership in the local cancer community. There's my cancer-kicking hiking posse; my knitting crew that will start up again this fall; and previous co-workers who have become friends for life. I am rich with people who were a tremendous support to Hubby and me as we walked the cancer road. And now as I traverse the widow road – not alone being the key thought in those last two sentences.
3. Life is much more fun together. Today I explored a new (to me) section of the Deschutes River with my Walking-4-Wellness-but-we're-really-here-for-the-coffee-afterward group. And if this walking group doesn't look like they're having fun together, then you might not know what fun looks like.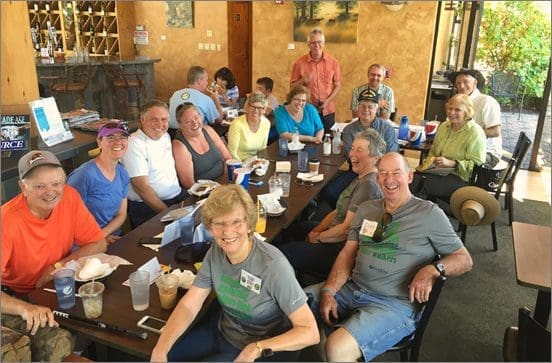 Walking 4 Wellness group
4. We can borrow things from each other. (I just threw this in to see if you're paying attention.) But seriously, when I left southern California a few weeks ago, I packed for one week in Northern California. But the road took a different twist and now I'm in Oregon. Without my hiking boots. And my Camelbak. And I'm not going to get very far without sturdy boots and hydration. But someone from my community came to my rescue.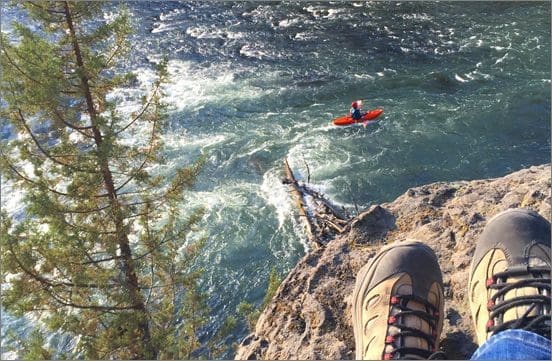 Borrowed hiking boots
If you haven't invested in community, stop what you're doing right now. Join a book club or study group. Sign up for a fun class at the college—Auto Maintenance for Women, Beginner Hula Hooping, Crossword Puzzling 101—with the intent of getting to know your classmates.
Get online and find a local meet-up group. I Googled and discovered 100 central Oregon meet-up groups listed at one website alone. There are meet-up groups for Latin dancers. For people who love to cook. Frisbee throwers. Techies.
There's even a meet-up group for Single Seniors. Um, no.
There's a Multi-Sport Club with 102 triathlete members. Probably won't be joining this group.
And there is one that calls itself the Rich Dad Cashflow Club with a self-description of "75 millionaires in making." Might have to visit this one.
I once heard a talk on the topic of making connection. The speaker clapped all by herself, which wasn't very impressive. She asked one other person to join her. Still uninspiring.
And then she asked the front row to join. Hmm … now we're getting somewhere.
But once she asked everyone in the packed auditorium to clap with her – it was astoundingly impacting. As you can imagine.
This from G.K. Chesterton:
There are no words to express the abyss between isolation and having one ally. It may be conceded to the mathematician that four is twice two. But two is not twice one; two is two thousand times one.
Bottom line: we're truly better together.
P.S. If you found this post helpful or interesting, please share, tweet or pin!