Getting outdoors was one of our favorite ways to manage the stress of Hubby's cancer. In central Oregon, we laced up hiking boots and strapped on snowshoes. Here in southern California, it's bike riding. Niece Heidi is visiting for the weekend, and one of the first things we did was hop on our bikes (not that Heidi is causing me any stress).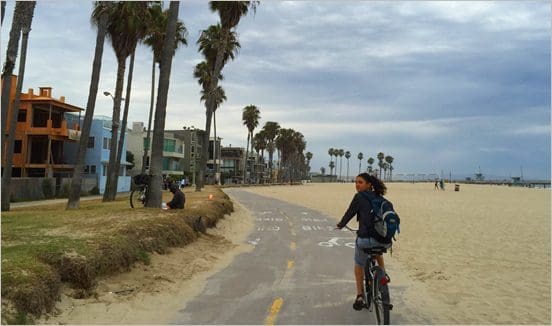 Heidi and I also spent a few hours on Saturday with the Dream Center's Adopt-A-Block program. We were assigned to Imperial Courts in the Watts neighborhood of Los Angeles. Brick cracker box apartments that looked like jail cells. Bars on all the windows and heavy metal screen doors that safeguard against outsiders seeing into the apartment or forcing entry. A lot of able-bodied men hanging around. Working on cars, or just clustered in groups. Drug and gang activity are common when the Dream Center team isn't there.
We picked up trash; distributed informational flyers about the Dream Center programs – the Food Truck, the kid's program, bus pick-up times. And played with the children on the playground near the rec center.
Here is where I met Heaven. A sharp 8-year-old who suckered me into holding her up by her legs as she traveled across the rings before she took off on her own.
"Hey, you didn't need me to help you," I say with pretend exasperation, hands on hips.
"Nah, I was just playin' which you," Heaven said as she flashed her impish grin.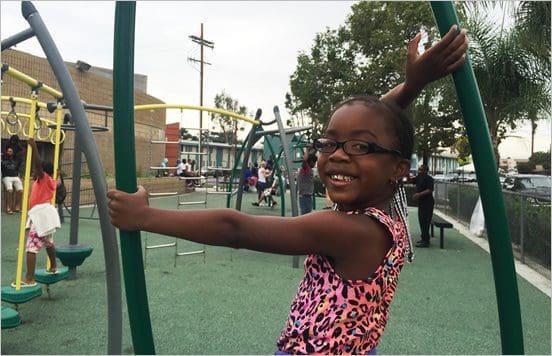 Hubby and I had some stellar cancer team members. The medical professionals, good nutrition, physical activity, support, stress management, positive attitude, our faith and finding purpose. All of them were connected, but some more closely intertwined.
Like managing the stress and finding purpose. For us, doing something worthwhile to benefit others helped create a sense of well-being. Which definitely helped with the levels of stress.
Hubby volunteered three mornings a week at Shepherd's House, a men's shelter in our hometown, while I continued working at the St. Charles Cancer Center. We also established a 501(c)(3) non-profit and shared our hope and encouragement with audiences across the country.
I happen to think that putting our stressful situations in a right perspective provides freedom. What are the best ways to do that? I can think of three right off the bat:
1. Look for something to be grateful for in the stressful. Think about Heaven, the 8-year-old growing up in the Watts neighborhood. What have you got going for you that Heaven doesn't have? How grateful are you for that?
2. Don't borrow things to worry about. But what if this bad thing happens? Yeah, but what if it doesn't?
3. Look for something worthwhile to do. Had you considered doing something purposeful as a stress-buster? What is it you're passionate about? Start there.
This prayer by Teresa of Ávila:
May you be content knowing you are a child of God. Let this presence settle into your bones, and allow your soul the freedom to sing, dance, praise and love.
Heidi and I didn't do any dancing this weekend, but our souls were lifted as we rode the wind on bikes, played with underprivileged children and served their community by picking up trash.
Any stress in your life? How are you managing it? And what first steps do you need to take to begin giving back and finding purpose?