It's always so much fun sad when The Parents leave and the grandma has the grandkidlets all to herself. It's also a little dangerous. For example, yesterday the 6-year-old decided I needed a make-over. The 14-year-old warned me: "You might want her to go easy on the eye shadow. Otherwise you'll look like you have two black eyes." She speaks from experience.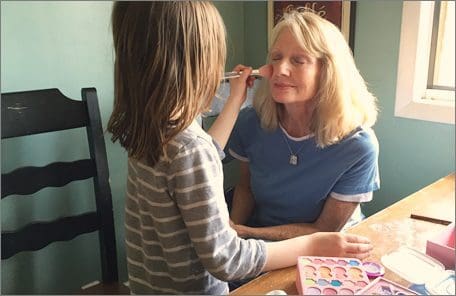 This reminded me that Hubby used to talk about giving cancer a black eye. Which is defined as getting off the couch and doing something you don't necessarily feel like doing.
Here are three suggestions (I'm pretty sure you can come up with several more):
1. Get outdoors. A side effect of Hubby's treatments was exhaustion. There were times when all we did was a short and slow walk through the neighborhood. But there were many, many determined days of lacing up hiking boots and strapping on snowshoes. And going for miles and miles.
Take that, cancer.
2. Make connections. So maybe you're physically incapable of doing anything that remotely resembles physical activity. What about attending that support group or that class for cancer patients and caregivers? You know, the one about eating better? Maybe you tend toward being on your own. Maybe you like animals better than people. But there are others who understand what you're going through. Others who have walked the trail while you're still puzzling over the map at the trailhead. People who can encourage you and offer some hiking tips. How smart would it be to connect with others within the cancer community?
Take that, cancer. You bully.
3. Develop your determination muscle. Whether you're dealing with cancer or any other hard thing, do something you don't feel like doing. Something you can and should do. Tackle small goals until you can set and accomplish larger goals. Begin with determination. Because checking things off lists provides a sense of accomplishment. And who among us couldn't use the boost that comes with having accomplished something?
Hubby was one determined man. And even though he died of this disease, he blackened cancer's eyes many times during the living-longer-than-expected years. As for the 6-year-old's black-eye sk … um, make-over skills, what do you think?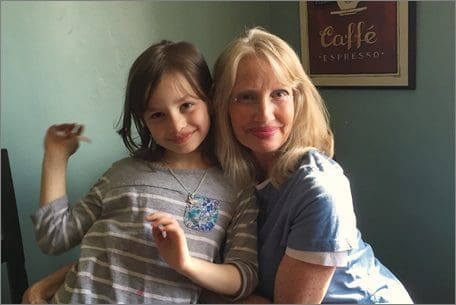 An improvement, yes? (Note the touch of bling by the right eye.)