These gorgeous blooms. Going-away gift at this week's DEFEAT Cancer dinner meeting. The flowers remind me that Hubby and I were part of an incredibly courageous, active, audacious, loving community of super-heroes here in central Oregon.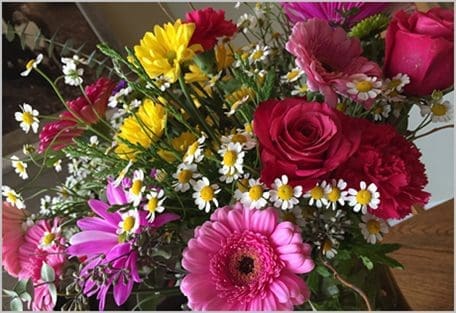 So why is it important to get plugged into community?
If I had to sum it up in one short paragraph, it would begin with accountability. A sense of belonging to something larger than just us. Companionship – these are people who get us. Knowing we're not traveling this way alone.
So many memories with this central Oregon cancer survivor group – Soaring Spirits Camp, the monthly DEFEAT Cancer meetings, hula hooping, hiking, snow-shoeing, knitting. And more. And while it was my job at the Cancer Center to facilitate a number of these programs, Hubby and I also participated in them (well, not Hubby and knitting).
What these people maybe don't know is, they were a critical part of our cancer team. They spurred us on. Simply by being. And I will forever hold them close in my heart.